The single vehicle accident took place Wednesday in Ripley County.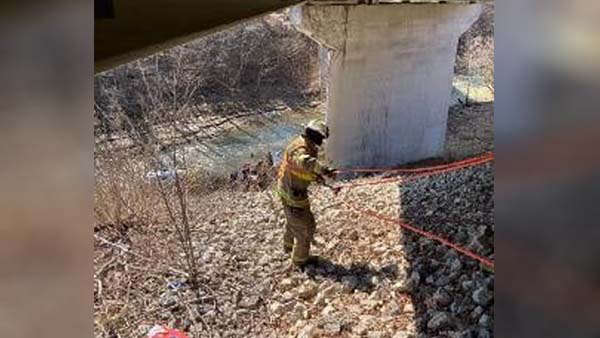 Photo by Versailles Fire Rescue.
(Versailles, Ind.) – One person was airlifted from the scene of a single vehicle crash on Wednesday afternoon.
Versailles Fire Rescue responded to the crash on U.S. 50 near Otter Creek Bridge where a vehicle was located over a ravine in the creek.
The driver, Penny Cloney, 38, of Holton, was traveling eastbound when her vehicle left the roadway and crashed into Otter Creek. Cloney had to be extricated from the vehicle.
Firefighters used rope rescue equipment to move the patient up from the creek to the roadway.
The extent of the driver's injuries was not released.
Versailles Fire Rescue was assisted at the scene by Holton Fire, Ripley County EMS, Indiana State Police, Osgood Police, Ripley County Sheriff's Office and Indiana DNR Conservation Officers.