Town officials believe the new home development will have a positive impact.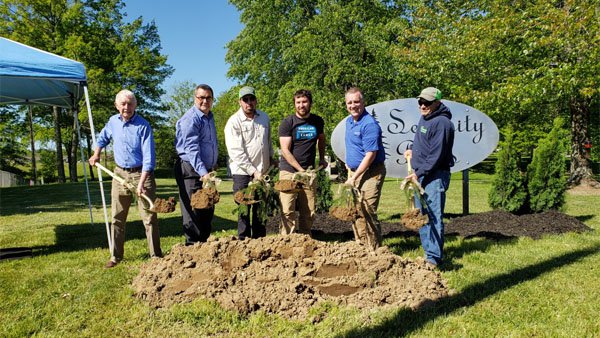 A groundbreaking ceremony for Serenity Pines was held Thursday morning in Dillsboro (left to right): Jim Deaton, Dillsboro Redevelopment; Doug Rump, Dillsboro Town Manager; Chris Robers, developer, Shae Robers, project assistant; Eric Lang, Land Consultants; Mike Stehlin, Stehlin Construction. Photo by Travis Thayer, Eagle Country 99.3.
(Dillsboro, Ind.) – It won't be long before new homes go up in the Town of Dillsboro.
An official groundbreaking ceremony was held Thursday morning at Serenity Pines, the town's newest home development.
Located at Bank Street and the soon to be constructed Liana Drive, Serenity Pines sits on 28.65 acres of land to be used for up to 41 market value homes.
In March of 2019, the Dearborn County Housing Market Analysis conducted by One Dearborn showed the demand for new housing in southwest Dearborn County would rise to 28 homes per year by 2023.
The same analysis also revealed that the last new-home building permit was issued in Dillsboro in 2007.
Soon after the report was released, vacant properties were located for potential development - and the piece of land at the end of Bank Street was selected in part because much of the utility infrastructure is already in place.
Brothers, Chris, Larry, and Jeff Robers will develop the land, which will feature green spaces, trees, a view of the lake, and walking trail. Serenity Pines will also include wide streets with sidewalks, and plenty of lighting.
Buyers may choose from a minimum 1,500 square-feet home starting the $200,000 range or purchase .25-.34 acre lots and choose your own design.
Town Manager Doug Rump spoke at Thursday's groundbreaking
"This is exciting times for Dillsboro," said Rump. "Town Council has been very instrumental in making this happen. I also want to take this time to thank an individual who has been instrumental in making sure this has stayed on track, and that is Susan Greco. Susan has worked very, very hard and I really appreciate what all she has done. We couldn't do this without all the hard work she has done and put into this, and with the council here being supportive, it's the right thing to do for Dillsboro."
Rump continued, stating that the added rooftops will allow the town to put more kids in Dillsboro schools and give the town more utility customers.
"It will also bring in people to our community that we can have be involved in the volunteer fire department, and the schools and our summer programs, and keep Dillsboro going. Dillsboro is well-known for its giving and its community activities. This here will only enhance that."
Economic Development Director Susan Greco tells Eagle Country 99.3 "the Town has ample utility capacity to support the new growth. Dillsboro residents will benefit by sharing the utility rates and additional tax revenue. South Dearborn School Corporation hopes to gain additional enrollment to boost the decline experienced in recent years. More roof tops will bring more customers to the existing businesses. The housing and infrastructure is a private development with no expense to the community. The location is close to school, park and shopping. Dillsboro hopes to create a new neighborhood for families."
Construction of Liana Drive, the driveway to Serenity Pines is expected to begin Monday, May 17, weather permitting.
Those interested in purchasing a lot or home at Serenity Pines should contact Deena Owens (Pinnacle Real Estate and Investments, LLC.) at (812) 584-3096 or deena.pinnacle@yahoo.com.