Do you dare visit the haunted attraction in Whitewater Township, Ohio each Friday and Saturday night in October?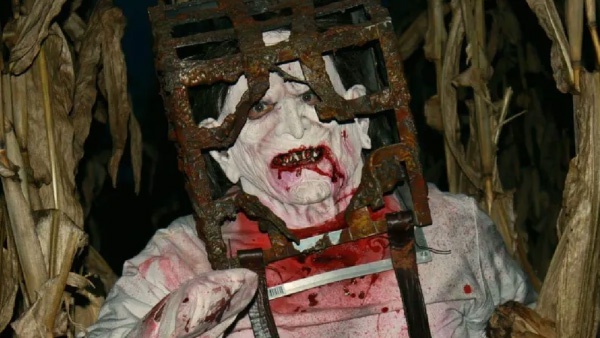 Highway 50 Fright Field photo
(Whitewater Township, Oh.) - Highway 50 Fright Field is returning for their 7th season.
Part haunted trail, part haunted woods…all on a real haunted 1830's farm near an actual Indian archaeological site.
Every October, all those that walk on this land are in grave danger. They tried to break the centuries-old curse, but it only became worse! Fear the wrath of the ancient Indian Wendigo spirit! The field turns into an adventure, hot with blood and horror, which is the first attraction, the Haunted Trail & Woods. The trail features everything from possessed zombies to many horrific entities throughout time that you "love to fear." There are many new scenes and dreadful surprises throughout.
The second attraction is their Operation Termination Zombie Paintball. Imagine walking into a bunker and taking the adventure into your own hands by shooting 100 rounds into zombies from all walks of life and death. May you be successful with your mission against the undead.
The last attraction is their NEW Corn Cob Cannon. Shoot REAL cobs of corn into the field with a cannon. Hit a zombie target and win a prize!
Obtain individual tickets to one attraction, or purchase discounted "Combo" or "Triple Threat" tickets to two or even all three attractions. Hopefully, you will survive…
The owners/operators truly enjoy bringing horror to the next level. The haunted trail lasts approximately 20 minutes, and it is the most unique outdoor haunted attraction in the Tri-State area. The 1830's farm is listed on the National Register of Historical Places and boasts a long history of pioneer and Indian activity.
Highway 50 Fright Field will be open every Friday and Saturday in October (weather-permitting) from 8 pm to 12 Midnight. They are located just west of Cincinnati on Highway 50, near E-Town, Ohio, and the Indiana/Ohio state line. By interstate, they are only 3 miles from either the Kilby Road (OH) or the Lawrenceburg, Indiana, I-275 exits. Just look for the HUGE clown on the side of the barn, and you'll know you have arrived!
Parking is free, and while there, you can visit the Buckeye Trading Post, www.buckeyetradingpost.com, on the same property. The Buckeye Trading Post is a unique gift shop featuring antiques, oddities, and the unusual as well as complimentary museum displays. Purchase edible bugs, "shrunken heads", freeze-dried lizards, high-quality Halloween masks, and more! Drinks and snacks are also available in the Buckeye Trading Post or at the Highway 50 Fright Field Café concession booth.
More information can be obtained by visiting their website at www.highway50frightfield.com or by calling 513-353-0284. They hope to see you to "get your scream on!"