Three male juveniles have been arrested for three separate threats made in less than a day.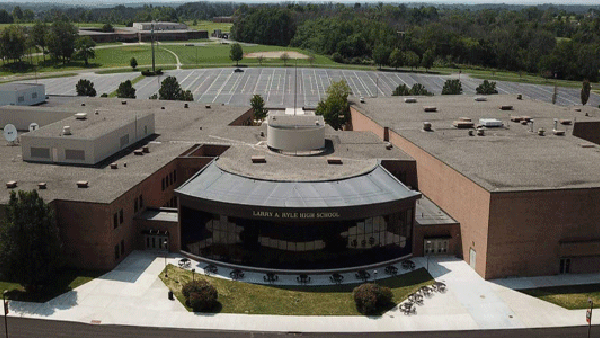 Larry A. Ryle High School
(Boone County, Ky.) - Boone County authorities are investigating three threats against Ryle High School in less than 24 hours.
Many students and parents were on edge all day Monday. The sheriff's office responded to the first threat by deploying additional resources to the school.
Sheriff's deputies say a new threat against the school in Union was uncovered Monday night. It follows the arrests of two other juveniles earlier in the day.
A 15-year-old male was arrested early Tuesday morning and charged with Terroristic Threatening 2nd Degree. This was after concerned students and parents began reporting a social media post made around 9:30 Monday night.
"The threat stated in part that Ryle High School would be a blood bath soon and that the person making the threat would "pop every mother [expletive] we can too". This threat appeared to be retaliation in response to the 17 year old male juvenile who was taken into custody and charged on 12/10/2018," according to the sheriff's office.
Deputies said they received a full confession from the 15-year-old, who attends Cooper High School in Boone County. He stated he does not know the 17-year-old behind the first school threat made Sunday evening.
The teen did not have access to weapons, deputies said.
December 11, 2018
"The male juvenile went on to state that he thought about the entire situation and decided to publish the threatening post anyway."
Another 15-year-old male was taken into custody Monday after making a threatening statement in a text to a classmate. The teen was not present at Ryle High School on Monday, but was communicating with a student who was.
Similarly, the 15-year-old made a full confession to police, does not have any known affiliation with the 17-year-old, and did not have weapons.
The threats and the increased anxiety around them have forced the postponement of a Monday night band concert at Ryle High School.
School administrators vow extra staff and law enforcement will be present Tuesday.
A letter from the school to parents is below:
"Good evening Ryle Parents, Students, and Staff,
Within the last 24 hours, two separate people have made threatening statements about students at our school. Both of these situations have been quickly investigated by school administration and the Boone County Sheriff's Department. In both situations, the responsible person has been arrested by the Boone County Sheriff's Department. Threats of harm and violence will not be tolerated and will involve both legal and school consequences.
Unfortunately, both of these incidents involve students' use of social media to share information with each other and everyone else without regard of the panic and concern that sharing it could create. Reinforce to your students that if they have information involving school safety they must communicate that information to school or law enforcement authorities.
Due to the increased anxiety and stress level of our students we will postpone and reschedule the Winter Band Concert scheduled for tonight at 7 p.m. These types of threatening incidents can be very stressful for students and everyone else involved; their anxiety level may be heightened and previous trauma in their lives may impact what they are now feeling. Please be mindful of everyone's emotional status right now.
Tomorrow we will move forward and continue, we will start anew and we will have additional staff and law enforcement present to reassure everyone that we are safe. Rest assured that any incidents of disruption or threatening behavior will be treated very seriously.
I have several groups of people that I would like to thank: first is our students as they have assisted our administrative staff and law enforcement at every turn as we have investigated these threats, the Boone County Sheriff's Department deserves credit for their support and their quick and decisive action in handling both situations, lastly our parents and our teachers have been very understanding and flexible as we have worked though two stressful and challenging situations."
RELATED STORIES:
Teen Arrested For Threat Against Ryle HS; Second Threat Received