The school district's goal was $9,400.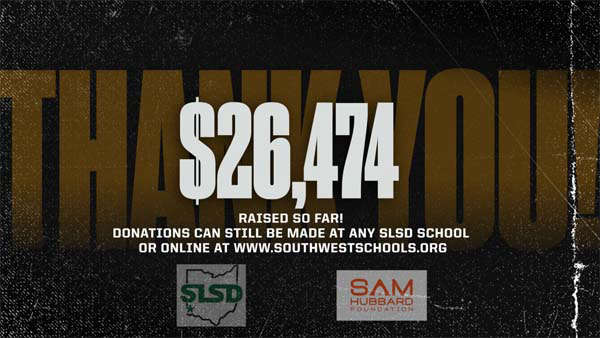 (Harrison, Oh.) – Southwest Local School District was tasked with raising $9,400 for the Sam Hubbard Foundation to receive a day off school the day after the Super Bowl.
Staff and students only had until Friday to meet the fundraising goal, but they didn't need that much time as the school district announced Thursday that $26,474 has been raised.
The funds will benefit the Sam Hubbard Foundation, which combats food insecurity in southwest Ohio. Hubbard, a defensive end for the Cincinnati Bengals, created the foundation to help people of Ohio combat hunger by providing vulnerable children and families with educational, medical, and athletic resources.
The original $9,400 goal was made due to Hubbard wearing #94 for the Bengals.
Special recognition goes to Boley Braces in Harrison for a $5,000 donation.
The online donation link will be kept open throughout the weekend at Local Level Events - Southwest Schools support Sam Hubbard Foundation 2022.
For more information about the Sam Hubbard Foundation, visit samhubbardfoundation.com.
The Cincinnati Bengals will face the LA Rams in Super Bowl LVI on Sunday, February 13 at 6:30 p.m. It is the Bengals first appearance in the Super Bowl since 1989.
RELATED STORIES
Southwest Local Schools Aim to Raise $9,400 for Sam Hubbard Foundation