ISP Versailles' All Crimes Policing Team helped make the drug bust in Washington Co.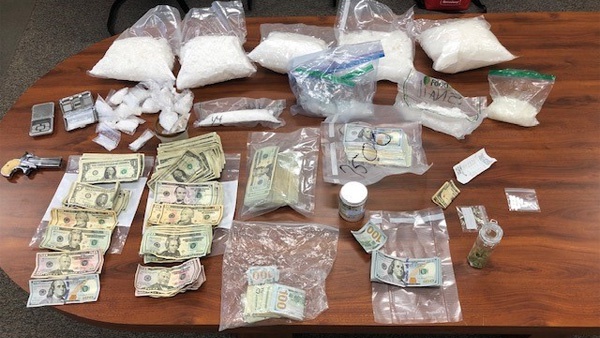 Photo by Indiana State Police.
(Versailles, Ind.) – Troopers with Indiana State Police-Versailles helped make a big drug bust earlier this week.
Indiana State Police-Versailles' All Crimes Policing Team with the assistance of the Indiana State Police Drug Enforcement Section obtained and served a search warrant at a rural Washington County address on Tuesday.
During the search, police located approximately 18 pounds of suspected crystal methamphetamine, in addition to marijuana, drug paraphernalia, and a large amount of U.S. Currency.
The homeowners, Raymond Collins, 48, and Deborah Mack-Collins, 52, were both arrested and transported to the Washington County Jail.
Both are facing felony charges of Dealing Methamphetamine, Possession of Methamphetamine, Corrupt Business Influence, Maintaining a Common Nuisance and misdemeanor charges of Possession of Marijuana and Possession of Drug Paraphernalia.