The work requires all cars be moved from the street.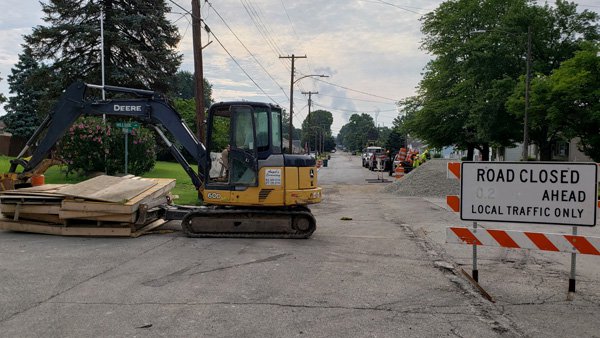 The Parkside Avenue Reconstruction project continues in Greendale. Photo by Travis Thayer, Eagle Country 99.3.
(Greendale, Ind.) – The City of Greendale is ready to begin Phase 2 of the Parkside Avenue reconstruction project.
City manager Steve Lampert says the north side of Parkside Avenue will be reconstructed from Nowlin Avenue to Hillside Avenue beginning Thursday, July 25.
Lampert added that the work will require cars to be moved off the street. No parking signs will be placed in the area.
Rohe Paving will be working west from Hillside heading towards Nowlin. During the work, traffic will be restricted to Parkside area residents.
The City of Greendale recognizes that access to drives will be an ongoing issue.
Residents are welcome to contact the city manager's office at (812) 537-2125 with any questions or concerns.