The Dearborn County Plan Commission is considering approval of the proposed Scenic Ridge neighborhood.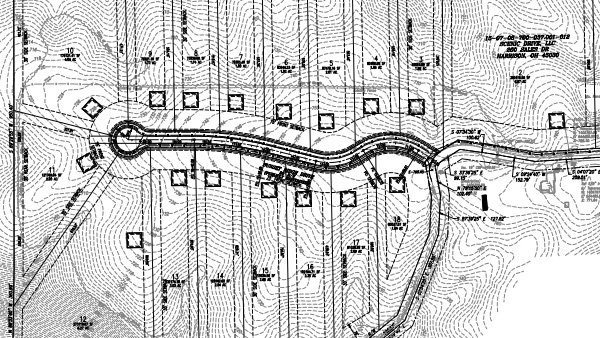 A new 18-home subdivision is planned on Scenic Drive in Lawrenceburg Township, just outside the Lawrenceburg city limits. Image by Land Consultants via Dearborn County Planning & Zoning.
(Dearborn County, Ind.) – A new subdivision is being planned in Dearborn County's Lawrenceburg Township.
On Monday, the Dearborn County Plan Commission considered a proposal by Scenic Drive, LLC to build 18 high-end homes on 56.47 acres along Scenic Drive near Wilson Creek Road. The property is owned by John T. Maas Jr., according to a plan commission report.
The new neighborhood would be called Scenic Ridge. Lot sizes will range from 1.79 acres up to 6.77 acres.
Currently, the land is zoned for agriculture, but a residential zoned area is just north of the tract. Because the home density of .32 unites per acre is below the one unit per acre threshold, a zone change is not necessary for the project to proceed.
The plan commission voted to table approval of the primary plat until their next meeting. The members first want letters of support from the Dearborn County Regional Sewer District and Lawrenceburg EMS.
Officials with Lawrenceburg Municipal Utilities and South Dearborn Regional Sewer District have already submitted letters indicating the additional wastewater created by Scenic Ridge could be handled by their systems.