The blaze happened during the early morning hours on December 12.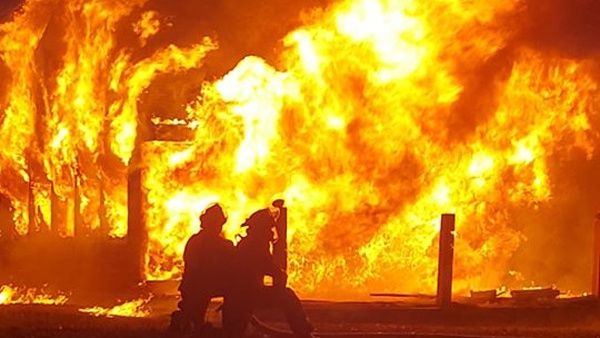 Photo by Delaware Fire.
Update published Tuesday, December 17 at 9:21 a.m.:
One person was found dead in Thursday's structure fire on North County Road 475 East near State Road 48.
Initially there was no word on whether anyone was injured or not.
The Osgood Journal reported Tuesday that an elderly woman, who remains unidentified, was found dead in the residence.
Three others that were in the home made it out safely.
A cause of the fire remains under investigation.
Original story published Monday, December 16 at 12:10 p.m.:
(Delaware, Ind.) – A large structure fire broke out over the weekend in Ripley County.
The Delaware Community Volunteer Fire Department was dispatched to the blaze in rural Sunman on Thursday around 3:10 a.m.
A cause of the fire remains under investigation by the Indiana State Fire Marshall.
Assisting at the scene was Morris Fire, Batesville fire, Napolean Fire Milan Fire, Ripley County Sheriff, Ripley County EMS, Ripley County Coroner, Sunman Area life Squad, and the American Red Cross.