Firefighters and police helped evacuate several residents from the 36-unit building.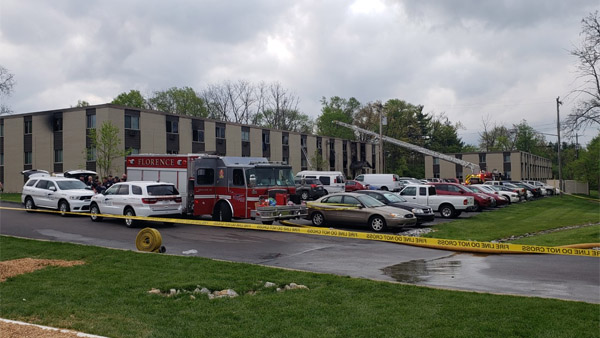 Photo by Travis Thayer, Eagle Country 99.3.
(Florence, Ky.) – More details have been released about a devastating fire at an apartment building in northern Kentucky.
Multiple units responded to the Champions Club Apartments on Parkland Place in Florence early Wednesday morning.
According to Florence Fire Department, multiple people were trapped in the 36-unit building, leading occupants to jump from upper floors. Fire crews were able to rescue 10 trapped occupants via ladders while also getting the fire under control.
Florence Police also assisted in evacuating residents from the building, including Officer Kelli Chapman, who caught a baby that was dropped out of a second-floor window.
In total, eight people were injured in the fire and were transported to local hospitals for treatment.
More than 70 people have been displaced as result of the fire. Red Cross was able to assists with temporary housing for those impacted.
A cause of the fire remains under investigation. The is no preliminary estimate on the amount of damage caused.
RELATED STORIES