Pioneer Day happens Saturday, May 18 with hands-on activities and pioneer games for families.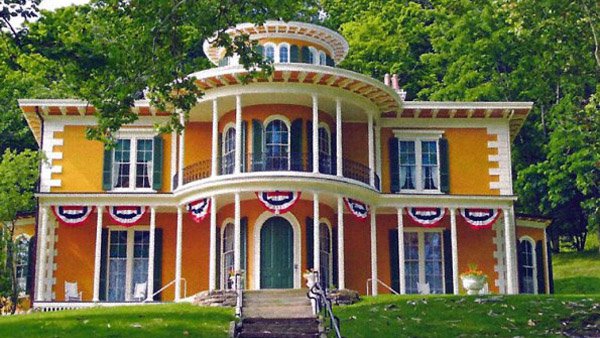 Hillforest Museum in Aurora. Photo by Dearborn County Convention, Visitors & Tourism Bureau.
(Aurora, Ind.) - The Pioneer spirit will be on display at the Aurora Bicentennial Pioneer Day scheduled Saturday, May 18, 10:00 a.m.-2:00 p.m. at Hillforest Museum, 213 Fifth Street, Aurora and neighboring Harris Cabin located behind Mary Stratton Park.
Pioneer Day committee Chair John Blasdel promises Pioneer Day will be an event not to be missed. Kids will have the opportunity to explore early 1800's crafts and culture during this FREE family event sponsored in part by a Sprint Excellence in Education grant through the Dearborn Community Foundation and PFS Community Foundation.
Twelve early pioneer crafters and presenters will be on-hand including a spinner, blacksmith, potter, hairwork artist, weaver, quilter, basket weaver, and more.
Organizations assisting with and supporting Pioneer Day are Aurora Lion's Club, Aurora Main Street, Aurora Public Library, Aurora Utilities, Boy Scout Troop #637, South Dearborn High School, St. Mary's School, and many private individuals.
Hands-on activities and pioneer games will be available for children to enjoy including candle dipping, designing a flag, making a yarn doll, quill and pen writing and more. Each child will receive a commemorative wooden nickel. Pioneer clothing created by Jane Hiltz's advanced sewing class of South Dearborn High School will be on display throughout the day.
Pioneer Day is one of the many events scheduled during 2019 to celebrate Aurora's Bicentennial year. For a complete list of bicentennial events, visit www.aurora.in.us. For information on Bicentennial Pioneer day call 812-926-0087 or visit www.hillforest.org. Hillforest is located at 213 Fifth Street, Aurora and the Harris Cabin is located behind Mary Stratton Park, Fifth Street.