A community celebration will take place Sept. 27 at Lew Wallace Park.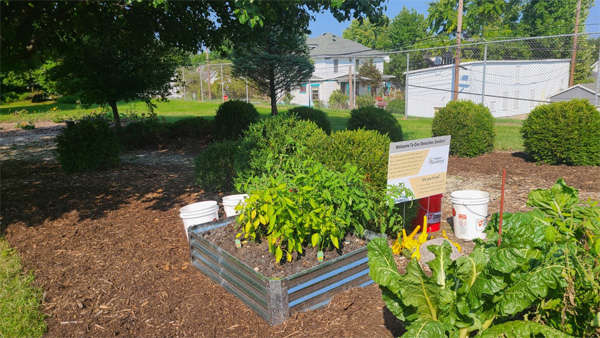 Photo provided.
(Brookville, Ind.) – Community gardens are in full bloom in Franklin County.
Thanks to a mini grant from the Purdue Extension Nutrition Education Program and many local helping hands, two greenspaces have been turned into community gardens.
Becky Marvel, NEP Community Wellness Coordinator and Veronica Bullock, Agriculture and Natural Resources Educator for Purdue Extension Franklin County partnered with the Franklin County Public Library District, Growing Laurel, and other partners to create a community-based garden in Lew Wallace Park and at Laurel Library.
The purpose of the gardens is to provide nutrition and garden education, and to donate food that is grown to local food pantries to increase the availability of healthy foods to local families.
More than 200 community members gathered at the Laurel Harvest Celebration on September 8 at the Laurel Library.
Another celebration will take place on Tuesday, September 27 from 5:00 to 7:00 p.m. at Lew Wallace Park.
The theme for the celebration is art and gardening.
The event is free to the public and will include a petting zoo, food, and will showcase the community partners and volunteers that helped bring the community gardens to life.
Those hoping to get involved with in the community gardens can do so by reaching out to Purdue Extension Franklin County via phone 765-647-3511 or by emailing Bullock at bullockv@purdue.edu.