The annual King & Queen Contest helped kick off the 112th Aurora Farmers Fair on Wednesday.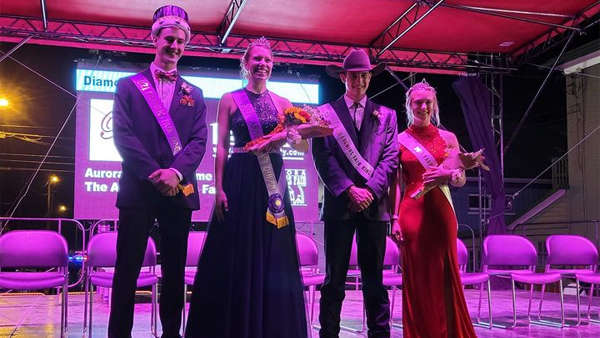 (Left to right): King Blake Gindling, Queen Alyson Galey, King Runner-Up Levi Baker, and Queen Runner-Up Karly Scholl. Aurora Farmers Fair Facebook photo.
(Aurora, Ind.) – The 112th Aurora Farmers Fair got underway on Wednesday with the crowning of the King and Queen.
Twenty students from nine area high schools and the Southeastern Career Center made up the list of candidates.
East Central's Blake Gindling and Lawrenceburg's Alyson Galey were named the King and Queen, while Switzerland County's Levi Baker and East Central's Karly Scholl were the King and Queen runner-up.
For Gindling, he continues a family legacy of being crowned at Farmers Fair. His sister, Paige, was named Farmers Fair Queen in 2018. Blake's mother, Deena, was also Farmers Fair Queen in 1991.
See a full list of previous King and Queen winners at Royal Court | Aurora Farmers Fair.
A full list of 2021 King and Queen contestants is listed below.
East Central HS – Blake Gindling & Karly Scholl
Jac-Cen-Del HS – Ryan Wilson & Shelby Reatherford
Lawrenceburg HS – Jackson Bobo & Alyson Galey
Milan HS – Brady Lack & Isabella May
Oldenburg Academy – Caleb Lehman & Alyssa Wanstrath
Rising Sun HS – Gavin Gilb & Katie Wilkening
South Dearborn HS – Reese Willoughby & Kyra LaBazzo
South Ripley HS – Blake Volz & Abigale Kieffer
Southeastern Career Center – Timmy Hall & Aundrea Cullen
Switzerland County HS – Levi Baker & Raylinn Kappes