The Indiana Broadcasters Association award recognizes radio and TV stations exhibiting dedicated service to the communities they serve.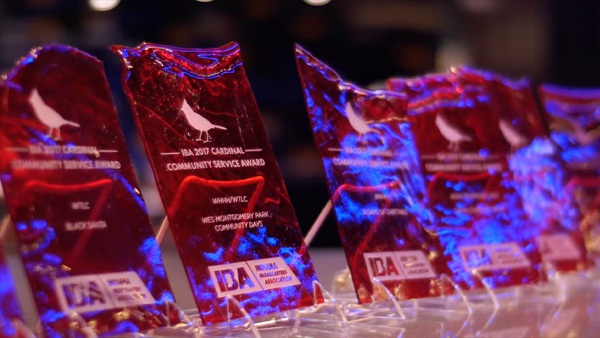 Cardinal Community Service Award. Photo by IBA.
(Lawrenceburg, Ind.) - Eagle Country 99.3 is living up to its slogan "Your Hometown Radio Station".
The station was named a recipient of the Indiana Broadcasters Association's 2018 Cardinal Community Service Award.
According to the IBA, "Named after the Indiana state bird – the Cardinal – and organized by Congressional districts, the awards are a symbol of dedicated service by our membership."
Eagle Country 99.3 earned the award for its coverage of the Ohio River flood in southeastern Indiana this past February and March. The river reached its highest level since the Flood of 1997, displacing some residents and closing businesses.
State employees also teamed up with Jent Construction to help with the cleanup in Aurora, joining other volunteers in clearing flood debris from city parks and emptying flooded basements.
"For many, radio remains the place to turn when there is breaking news or a disaster," says Eagle Country 99.3 news director Mike Perleberg. "Eagle Country 99.3 strived to be a tool for officials and emergency agencies to get important information to local people affected by the flooding.We also wanted to do our part to help Aurora bounce back from the flood. Jent Construction owner Adam Jent was gracious in partnering with us and bringing many of his employees to join the cleanup effort in early March."
Melissa Murphy, the radio station's general manager, said she is proud of her staff.
"Their love and commitment to our communities is what makes Eagle Country 99.3 successful. It's the way I was raised in this business and I'm so happy to see another generation of true broadcasters learning that if you take care of the community you cannot fail. My heart of my staff is what makes our radio station your true hometown radio station," Murphy said.
The IBA will present the Cardinal Community Service Awards at three ceremonies in August. They will take place in Evansville, South Bend, and Indianapolis.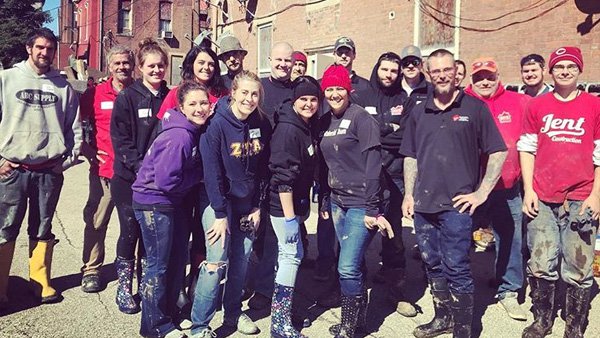 Eagle Country 99.3 and Jent Construction employees helped with the flood recovery effort in Aurora last March. File photo.