Cheryll Obendorf has done a lot of good during her 13 years as a leader of the RCCF initiative.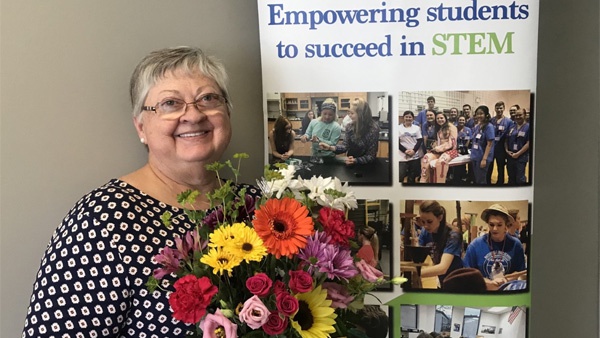 Cheryll Obendorf. Photo provided.
(Ripley County, Ind.) - Genesis: Pathways to Success (GPS) Director, Cheryll Obendorf, will step down from the Director's position on March 1, 2021, after nearly 13 years as the leader of one of the Ripley County Community Foundation's key initiatives. During her tenure, GPS has been recognized for its leadership across a wide range of key education, workforce, and community development initiatives and has leveraged over $4.2 million into education and workforce development since 2008.
"I am proud of the collaboration and partnerships that have resulted in an extraordinary amount of success since this initiative started," Obendorf said. "The best part of my role has been seeing students become engaged in STEM through our many projects and programs and knowing that they have learned skills that will help them be successful in life."
Obendorf came to the Ripley County Community Foundation in July 2008 as its EcO15 Coordinator and then became the Director of the Ripley County Community Foundation's initiative, Genesis: Pathways to Success, in 2016. Under her leadership, the culture in Ripley County (and southeastern Indiana) has been impacted as a result of several key projects and initiatives including:
- The establishment of East Indiana Area Health Education Center, a nonprofit organization serving 14 counties in southeastern Indiana and dedicated to connecting students to careers, professionals to communities, and communities to better health by supporting community-based learning for students and health professionals
- A Collaborative Innovation Center project which resulted in Ripley County schools launch of 1:1 computing devices for students in the county, training for teachers, and the installation of Collaborative Innovation Centers in each school corporation
- The expansion and enhancement of the Diesel Technology Program at Southeastern Career Center in collaboration with industry partners and nonprofit organizations
- Advancement of Computer Science and Cybersecurity education in Ripley County by connecting teachers with training resources
- Facilitating and hosting Cybersecurity Camps in collaboration with Ripley County schools, Ivy Tech Community College, Northern Kentucky University, Hanover College, Vincennes University, the Cyber Academy at Muscatatuck Urban Training Center, and local employers
- A Regional Rube Goldberg Machine Contest held each year since 2011
- An annual Manufacturing Camp in collaboration with local manufacturers
- The launch, in partnership with East Indiana Area Health Education Center and Dr. Beth Trammell, of Indiana University East and Make Words Matter for Good, a Mental Health Professional Development training series for educators and the development of supplemental resources including Youth Mental Health First Aid training and certification
- Support for public and private schools in Ripley County by coordinating and writing the Governor's Emergency Education Relief grant proposal which resulted in a $250,000 grant to Ripley County schools for internet connectivity
- Oversight, preparation, and implementation of the recently-announced $200,000 GIFT VII grant from Lilly Endowment, Inc. to Franklin and Ripley counties
Obendorf will continue to serve as a consultant to the Ripley County Community Foundation and in volunteer roles on the Boards of Directors for Kids Discovery Factory and East Indiana Area Health Education Center.
Amy Streator, Executive Director of the Ripley County Community Foundation, stated, "Under Cheryll's guidance, Ripley County has built strong cross-sector partnerships, enhanced its education opportunities, and fostered a spirit of innovation all in the name of progress." Streator further noted, "Cheryll has formed a solid foundation for the Genesis: Pathways to Success initiative, which will allow the Ripley County Community Foundation to continue to support programs within the education, health, and business sectors. We are grateful that Cheryll will continue to work with the Community Foundation as a consultant, but we wish her a very happy retirement."
Genesis: Pathways to Success will continue to be a very important initiative of the Ripley County Community Foundation with a focus on empowering entrepreneurship, innovation, and economic opportunities in Ripley County. Clarice Patterson, currently the Outreach and Communication Liaison of the Ripley County Community Foundation, will step-up and serve as the new Director of GPS.
If there are any questions, please contact the Ripley County Community Foundation's Executive Director by stopping by 13 E. George Street, Suite B, Batesville, Indiana, calling (812) 933-1098, or emailing astreator@rccfonline.org.