The Pfizer vaccine is the first to be administered, and Moderna's vaccine could be approved soon.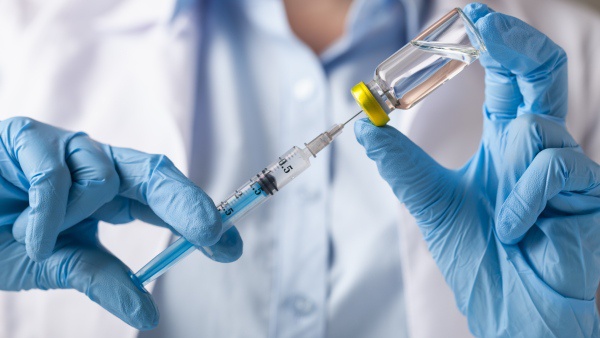 Shutterstock photo.
(Undated) – COVID-19 vaccinations are underway.
On December 11, the U.S. Food and Drug Administration issued the first emergency use authorization (EUA) for a vaccine for the prevention of COVID-19.
The approved vaccine comes from Pfizer Inc. and is intended for individuals 16 years of age and older.
"The FDA's authorization for emergency use of the first COVID-19 vaccine is a significant milestone in battling this devastating pandemic that has affected so many families in the United States and around the world," said FDA Commissioner Stephen M. Hahn, M.D. "Today's action follows an open and transparent review process that included input from independent scientific and public health experts and a thorough evaluation by the agency's career scientists to ensure this vaccine met FDA's rigorous, scientific standards for safety, effectiveness, and manufacturing quality needed to support emergency use authorization. The tireless work to develop a new vaccine to prevent this novel, serious, and life-threatening disease in an expedited timeframe after its emergence is a true testament to scientific innovation and public-private collaboration worldwide."
According to the FDA, the Pfizer-BioNTech COVID-19 Vaccine contains messenger RNA (mRNA), which is genetic material. The vaccine contains a small piece of the SARS-CoV-2 virus's mRNA that instructs cells in the body to make the virus's distinctive "spike" protein. When a person receives this vaccine, their body produces copies of the spike protein, which does not cause disease, but triggers the immune system to learn to react defensively, producing an immune response against SARS-CoV-2.
The vaccination series is two doses given three weeks apart. If you receive one dose of the Pfizer-BioNTech COVID-19 Vaccine, you should receive a second dose of this same vaccine three weeks later to complete the vaccination series.
The most commonly reported side effects, which typically lasted several days, were pain at the injection site, tiredness, headache, muscle pain, chills, joint pain, and fever. Of note, more people experienced these side effects after the second dose than after the first dose.
Vaccinations have begun in Indiana, Kentucky, and Ohio.
The priority in all three states is to make sure the people who need it the most get it first. That includes healthcare professionals, those in long-term care facilities, etc.
The #COVID19 vaccine is now making its way to Indiana.

Here's the info you need to know ⬇️ pic.twitter.com/osmHyvj6z8

— Governor Eric Holcomb (@GovHolcomb) December 9, 2020
In Kentucky, five nurses and doctors at U of L Health received the vaccine on Monday morning. Seven Kentucky hospitals are expected to receive vaccine shipments Tuesday: Baptist Health Corbin, Baptist Health Louisville, Baptist Health Madisonville, Norton Hospital, Pikeville Medical Center, St. Elizabeth Healthcare Edgewood and University of Kentucky Medical Center.
"Today is the most exciting day that I've had, I think that we as a commonwealth have had, since March 6, when we had our first diagnosed COVID case," said Gov. Beshear. "Today marks the beginning of the end of COVID-19. We are going to defeat this virus in 2021. This is a moment that we have hoped for and prayed for. The effectiveness of this Pfizer vaccine and the Moderna vaccine that's going to follow is nothing short of a modern medical miracle.
Ohio Governor Mike DeWine says 975 doses were delivered to The Ohio State University Wexner Medical Center in Columbus and UC Health in Cincinnati on Monday.
"It was such a moment of hope to watch the healthcare workers begin to get vaccinated today," said Governor DeWine. "Today is the first day of a process that will continue over the months ahead as Ohioans who choose to be vaccinated have their opportunity to receive the vaccine. However, until the vaccine is widely available for all Ohioans who choose to receive it, we must continue to use all available tools to prevent the spread of the virus, like wearing a mask, keeping your distance, and washing your hands."
Vaccine doses will be limited early on, but the COVID-19 vaccine is expected to be widely available sometime in 2021. The FDA could approve a second vaccine from Moderna this week.
For more information, visit www.fda.gov.
RELATED STORIES
ISDH: COVID-19 Vaccines Will Likely Be Available By The End Of The Year
Gov. Beshear: First COVID-19 Vaccine Shipment Arriving Soon
Experimental COVID-19 Vaccine Generating Encouraging Results
CDC Officials Say Americans Receiving The Flu Vaccine This Year Is More Important Than Ever