The airport closed in 2017 will begin hosting side-by-side racing events in July.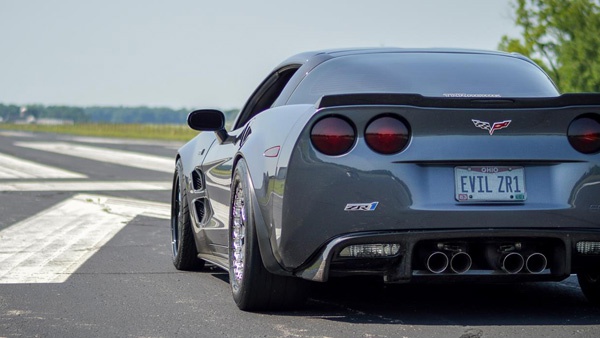 Photo courtesy Infinite-Speed.
(Batesville, Ind.) - The Batesville Airport is no longer open to aircraft, but it's mile-long tarmac could soon be the site of exotic car races.
The airstrip on Enochsburg Road north of Batesville was established as a private airport by Hillenbrand Industries in 1961. The Whittington family of Columbus, Indiana purchased it in 2016 and opened it for public use. Citing a lack of support, the airport shut down last December.
But it would be a shame to let 6,000 feet of straight line pavement go to waste. A business called Infinite-Speed plans to open the airstrip for half-mile, side-by-side car races. Eddie Perry, of Cincinnati, and Steve Miller, of Covington, co-own Infinite Speed, according to The Batesville Herald-Tribune. The airport is still owned by the Whittingtons.
The events will take place every other weekend, with drivers bringing their high-end cars to Batesville and ripping down the runway at speeds over 200 MPH. Drivers of Chevrolet Corvettes, Dodge Vipers, Lamborghinis, Ferraris and other expensive, souped-up cars will compete for purse money. The owners expect to attract competitors from across the country.
Infinite-Speed's first half-mile racing event, "Ultimate Half-Mile Shootout", is scheduled to take place July 14 and 15.
"During the first phase of our company's launch we will begin by hosting biweekly half mile trap speed, and roll racing events every other weekend July-November. Trap speed racing with class payouts will be scheduled on certain race days. Sponsorship opportunities are available for vendors and shops. We are also offering private track and facility rentals with lift access," an Infinite-Speed news release states.
Trap speed races are those similar to drag races, where vehicles start from a dead stop. Roll racing has vehicles take off after a rolling start of 40 MPH.
A 17,000 square foot finished building at the facility will be dedicated to the racing business.
"While we are utilizing less than 50% of the building space and land that is available to us, this is just the beginning," the company states.
Racers will pay entry fees. Spectators will also be allowed to view the action for an admission charge.
The owners of the airport are currently seeking a zoning change to allow for the racing business, but some neighbors have raised noise concerns. Infinite-Speed is expected to take zoning concerns to the Franklin County Commissioners in the coming months.