The finalists and winners were recognized on Sunday night.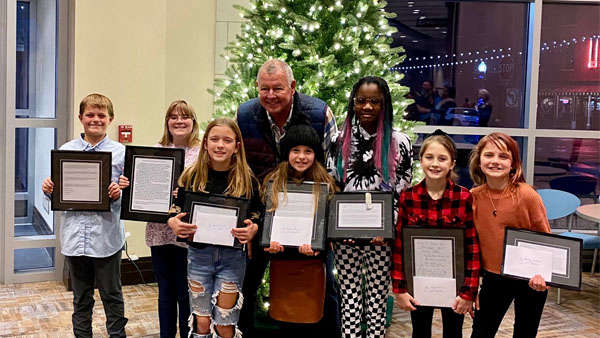 Photo by the City of Lawrenceburg.
(Lawrenceburg, Ind.) – Nine students from Central Elementary School were honored on Sunday evening in downtown Lawrenceburg.
Mayor Kelly Mollaun announced the winners of the Winter Wonderland Christmas Essay Contest during the annual Mayor's Reception and Christmas Tree Lighting.
This year, Mayor Mollaun reviewed over 300 essays titled "How Do You Share the Christmas Spirit with Others?"
Three finalists were selected for grades three, four and five.
The winners are:
THIRD GRADE: 1ST Ava Spreen, 2ND Lily Kearns, 3RD Maizey Lightner
FOURTH GRADE: 1ST Kori Sean Marie Thomas, 2ND Brylee Haring, 3RD Kylie Powell
FIFTH GRADE: 1ST Vance Lucus Barkhiemer, 2ND Isabella Jones, 3RD Olivia Dietrich
Each of the three first place winners received their winning essay custom framed by The Framery, along with a $100 gift card.
Second and third place received gift cards of $50 and $25, respectively.