The scholarship fund had been put on halt due to COVID-19.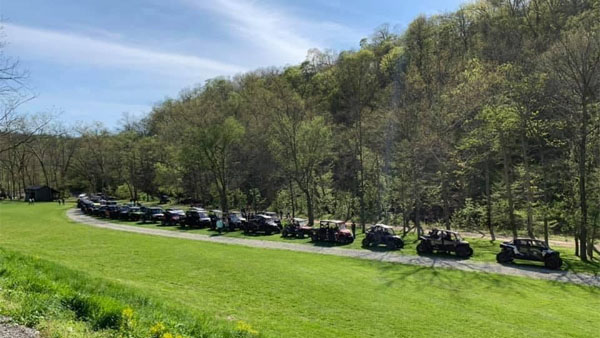 Photo provided.
(Rising Sun, Ind.) – A recent fundraising event was a great success due to great community support.
Donald Bowman passed away in October of 2010. After his passing, his family decided to remember him by giving away scholarships to local high school seniors in his memory. Bowman was best known for being a loving husband, father, and grandfather.
He also dedicated many years of his life working at Seagram's and later at Lawrenceburg High School Janitorial.
Fundraising for the Bowman Scholarship hit a snag over the last year due to COVID-19, but a UTV/Jeep Ride was organized on May 1 to raise funds for the scholarship.
The event raised over $10,000.
Next year's UTV/Jeep Ride is already in the works. It is scheduled for April 30, 2022.
The Bowman family extends their thanks to all of the following sponsors of the event.
Gold: Florence Speedway, Wheelock Lake Campground, Floods Foods, SuperATV, Dillsboro Mobil, J Miller Steak Company, Regional Roofing Inc., Settle Door, All American Gutter Guys, Affordable Tax Consultants, INC, York & Son`s Welding LLC, Floor Solutions, Bustle & Grow, Jessica Renee Boudoir Photography, Down to Fabricate, Lawrenceburg Eye Center, Mike Knollman-Tudor Square Realty, DeVille Pharmacies INC, Jeff Brindley Trucking, Bowman Excavating, & Car Country
Silver: Levi`s Backyard Performance, KMRC Racing, Jay Knowles Realtor, Whitewater Motors, Follow the River RV Resort, R.J.E Restoration Services, Tommy`s Woodcraft, Keller Williams Realty-Blake Haag, Burg Nutrition & Sister Sweets Nutrition
Bronze: Nickelos Pizza, Riverhouse Bar & Grill, On Target Sporting Goods, Main Street Diner, Rider Realty, The Rustic Nail, Natasha Bunger, Smith Chiropractic LLC, J & J Liquor, S & N Powersport, Jackie Lee, Touchstone Crystal by Swarovski, Nail Home Services, Bill & Sharon Lucas, Pollard`s Bowl & Po`s Pub, Pinnacle REI-Ryan Davies, Double D Construction LLC, Steve Baugh-State Farm-Versailles, Strickland Energy LLC, Personally Yours Gift & Floral, His & Hers Salon, & Thornton`s Motorcycle Sales
Donations: Flowers & Gift of Love, Levi`s Backyard Performance, Physique Boutique, Purple Toad Winery, Joe Hughes/Blacklist, Railyard Bar & Grille, Precision Style Boutique LLC, Heavenly Hands Massage, The Dugle`s, Dwight & Rita Addleman, John Epsey, Dearborn Title Insurance, & Zimmer Tractors