Water from Wednesday's rain froze on some roads overnight.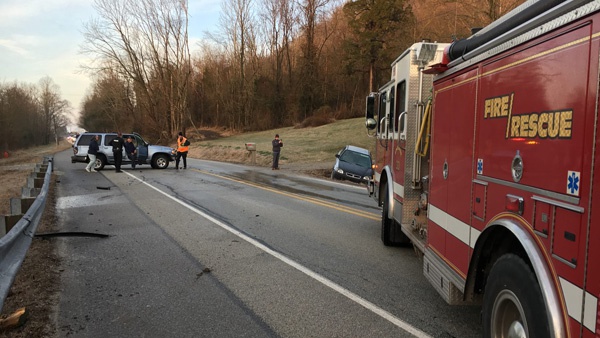 One of the wrecks on State Road 56 in Switzerland County Thursday morning, February 21. Photo courtesy Jeff-Craig Fire Department.
Update published at 8:05 a.m.:
Several more wrecks have occurred across Dearborn County as water run-off froze on roadways overnight.
Several accidents have been reported on State Road 1 in the county from Greendale to Dover. One wreck near Whitaker Lane was reported to involve a trapped driver who was unconscious.
The number of wrecks is spreading local authorities thin as they rush to respond to each crash scene.
Temperatures are right at 32 degrees as of 8:00 a.m. State and county highway crews are out treating roadways in Dearborn County.
An overturned vehicle was reported on State Road 129 just north of Vevay, where motorists also reported black ice. At least three accidents have been reported on State Road 56.
In Burlington, Burlington Pike/KY 18 remains closed in both directions at Caroline Williams Way as of 8:00 a.m. Utility lines fell across the highway when a vehicle struck a utility pole. The closure may last past 10:00 a.m.
Numerous reports of slick roads and crashes across the area this morning.

Yes, the weather is clear today but due to the cold temps, the rain that fell yesterday has frozen on many roadways.

Use caution this morning, especially where you know there has been standing water.

— Sgt. Stephen Wheeles (@ISPVersailles) February 21, 2019
Original story published at 6:52 a.m.:
(Dearborn County, Ind.) - Water run-off from a rainy Wednesday has apparently frozen on some roadways Thursday morning.
Authorities are responding to two crashes in West Harrison as of 6:45 a.m. A vehicle slid off of North Dearborn Road at Morgan Road and collided with some trees. The driver was reportedly injured.
In a separate accident only a couple minutes away, a vehicle rolled over in an accident on Jamison Road at Kolb Road. The driver was able to get out of the overturned vehicle, dispatchers said.
Deputies have requested that county highway crews come to treat the slick roadways.
In Boone County, a serious crash has closed Burlington Pike/KY 18 at Caroline Williams Way. A vehicle struck a pole, but it is unclear if ice played a role in that wreck.