The number of vehicles that showed up far exceeded expectations.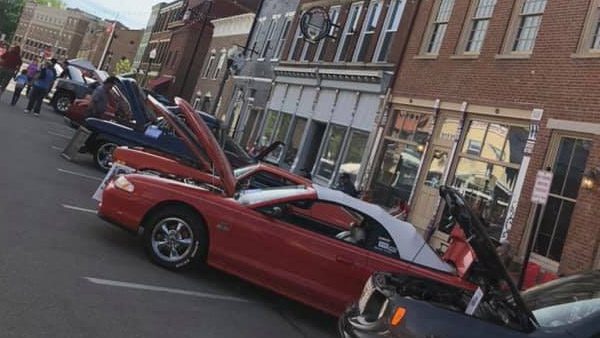 Photo by Miranda Boyles, Eagle Country 99.3.
Update published at 5:32 p.m.:
Event organizer Logan Lawrence announced today that 927 vehicles were in attendance, helping raise at least $35,000 for the ALS Association.
Original story published Monday, May 3 at 10:05 a.m.:
(Lawrenceburg, Ind.) - The 5th Annual Cruisin' to a Cure for ALS was the biggest yet.
So much so that event organizer Logan Lawrence and his crew had to create more room for the over 900 vehicles that showed up in downtown Lawrenceburg on Sunday.
The official number of vehicles has yet to be announced, but when it is it will be a record amount for the event.
"Props to the city because they opened up every street they could after we ran out of room," said Lawrence. "It's just unreal. I can't wait to see beginning of the week how much money we raised. My goal was $30,000 but after counting hopefully we can hit that. I think we're well on track."
LOGAN LAWRENCE JOINED DOUBLE T ON AIR SUNDAY AFTERNOON DURING THE CAR SHOW. HEAR THE INTERVIEW IN THE AUDIO PLAYER BELOW.
Lawrence added that approximately 700 vehicles registered to judge.
All the proceeds from registration, the live auction, merchandise sales, and general donations will go to the ALS Association.
"I'm beyond words and I don't know what to say but I want to say thank everyone that has come down. It means a lot to me," said Lawrence.
Eagle Country 99.3 will update the story when official numbers are released.