Lawrenceburg Police are reminding motorists of the rules of the road.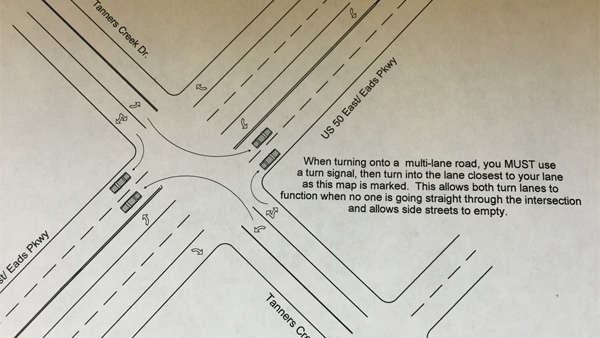 (Lawrenceburg, Ind.) – The Lawrenceburg Police Department is reminding motorists about the importance of making proper turns on multi-lane roads.
In a Facebook post this week, Lawrenceburg Police used the intersection of U.S. 50 and Tanners Creek Drive as an example.
The intersection is where officers see the most violations.
When turning onto a multi-lane road such as U.S. 50, motorists must use a turn signal, then turn into the lane closest to your lane. By completing proper turns, a lot more vehicles are able to clear the intersection during each light cycle, and in a safer manner.
Improper turns may cause a crash and those found to be at fault may be cited.
For more information, visit Lawrenceburg Police Department - Indiana | Facebook.