U.S. Senator Todd Young is among a bipartisan push to raise the minimum age for purchasing tobacco products and e-cigarettes.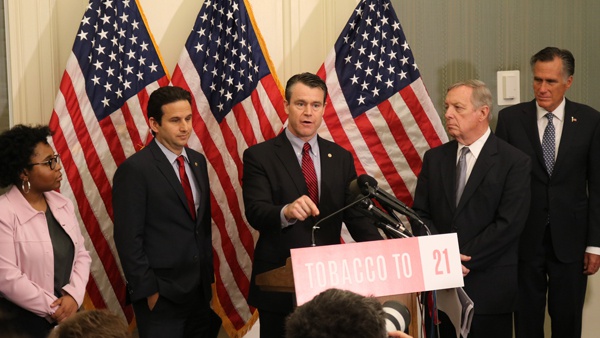 Indiana U.S. Senator Todd Young has joined the group of lawmakers supporting the Tobacco to 21 Act. Photo via Office of U.S. Senator Todd Young.
(Washington, D.C.) - Add Indiana Republican U.S. Senator Todd Young to the list of lawmakers in Washington D.C. who want to see a higher national smoking age.
Young on Wednesday joined the effort with a bi-partisan group of senators backing the Tobacco to 21 Act, which seeks to raise the smoking age from 18- to 21-years-old.
"This is especially important in my home state of Indiana where tobacco use is the single most preventable cause of death and disease. In fact, the state of Indiana ranks 45th in the country in terms of tobacco usage. I know we can improve on that," Young said.
He believes that by raising the smoking age it may stop some smokers before they start.
The proposed legislation would apply to all tobacco products, as well as e-cigarettes.
"With the advent of e-cigarettes and the uptake of vaping, especially among young Americans, it's essential we act now," added Young.