The governor's speech focused on key initiatives that will build a brighter future for all Hoosiers.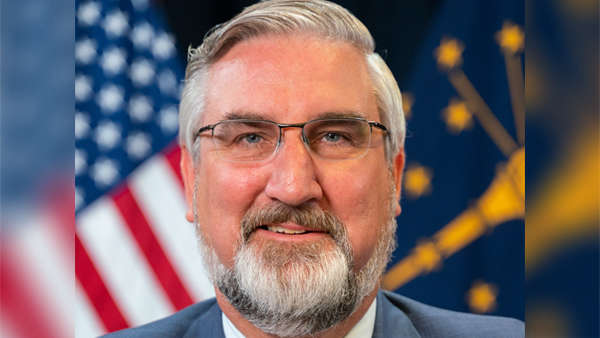 INDIANAPOLIS - Governor Eric J. Holcomb addressed a joint convention of the Indiana General Assembly on Tuesday as he delivered his 2023 State of the State Address. Gov. Holcomb's progress report touted record-breaking achievements and focused on three key goals: securing Indiana's place in the economy of the future, transforming the delivery of public health across the state and making unprecedented investments in the classroom from pre-k through college and adult learning.
"I intend to work even harder over the next two years than I have at any other time to continue to improve our prospects for every single person who calls Indiana home. After all, I believe in this state and our people," Gov. Holcomb said.
Gov. Holcomb recognized Indiana's strong fiscal position that allowed for cutting taxes, paying down debt and cultivating a business-friendly climate that has positioned the state to become a pipeline for future-focused industries. It also led to an all-time record investment of more than $22 billion in committed capital investment in 2022, cultivating new opportunities across the state like never before. The governor is requesting another $500 million in funding for a second round of the Regional Economic Acceleration and Development Initiative (READI).
Gov. Holcomb announced, through the Next Level Trails program, the acquisition of the Monon South abandoned rail corridor through Floyd, Clark, Washington, Orange and Lawrence counties to be transformed into a recreational trail. Once completed, the trail will be 62.3 miles long, making it the longest contiguous multi-use trail in the state.
"With this type of momentum and so much more I'm forced to utter that familiar phrase, 'ladies and gentlemen' the state of our state is strong and about the get stronger," Gov. Holcomb said.
To enhance the delivery of public health services across rural, urban and suburban Indiana, Gov. Holcomb is requesting a significant increase in the state's public-health appropriation, which was recommended by the Governor's Public Health Commission. The funds will empower communities to design and implement local initiatives that will address their unique needs.
"Even though we've accomplished a great deal in Indiana it's obvious we have more potential yet to be realized," Gov. Holcomb said. "When individuals, communities and businesses step up, acknowledge their challenges, and take steps to reach their Next Levels they should know their state has their back."
As further support of the governor's commitment to creating a brighter future for Hoosiers, he continues to seek unprecedented investment in education. Gov. Holcomb will request the state's largest-ever investment in K-12 tuition support at an increase of more than $1.1 billion to give schools the resources to reward educators. He is working to deliver the state constitution's promise of a free public education by seeking to prohibit textbook and curriculum fees paid by Hoosier parents. The governor will increase tuition support for higher education and dedicate funds to adult learning opportunities to provide all citizens the tools they need to succeed from childhood to adulthood.
"I am asking the legislature to support a $184 million increase in higher education funding and support the Commission for Higher Education's proposal to reward our world-class universities for keeping their graduates in careers in our state," Gov. Holcomb said. "After all, Indiana's college campuses need to be the epicenters of brain gain and not brain drain."
Gov. Holcomb also called for major investments to increase school safety grants by 30%, raise starting pay for Indiana State Police to $70,000 per year, and provide funds for firefighter training and protective equipment.
Each year, Indiana's governor addresses both houses of the state legislature, the state's Supreme Court justices, and other state leaders at the beginning of the legislative session in the State of the State Address. It provides an opportunity for the governor to report on the status of the state's affairs, highlight key accomplishments of the past year and outline top priorities for the year ahead.
The video and text of Gov. Holcomb's 2023 State of the State Address can be viewed by clicking HERE.