Switzerland County first responders made the water rescue Sunday night.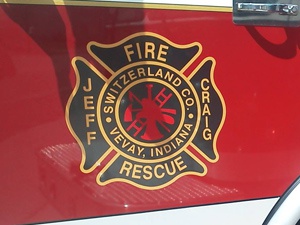 (Switzerland County, Ind.) - A dozen people were trapped in a van stalled in high water during Sunday night flash flooding in Switzerland County.
Sheriff Brian Morton says a report of a van stuck in water was received from the 4000 block of Nell Lee Road at around 10:30 p.m. The van had been attempting to cross a ford on the road when it became stuck due to high water. Twelve people were inside the vehicle.
Members of the Jeff-Craig, East Enterprise and Moorefield fire departments responded to the scene along with sheriff's deputies and Switzerland County Emergency Response.
Each of the van occupants were safely removed with no injuries reported, according to Morton.
The Switzerland County Highway Department was notified and closed Nell Lee Road due to the road being impassible.
Morton said in a statement, "The Switzerland County Sheriff's Office would like to take this incident as a reminder to never drive into flooded areas. The average automobile can be swept off the road in 12 inches of moving water, and roads covered by water are prone to collapse. Attempting to drive through water may also stall your engine, with the potential to cause irreparable damage if you try to restart the engine. If you come upon a flooded street, take an alternate route."