Deer of the Day 2023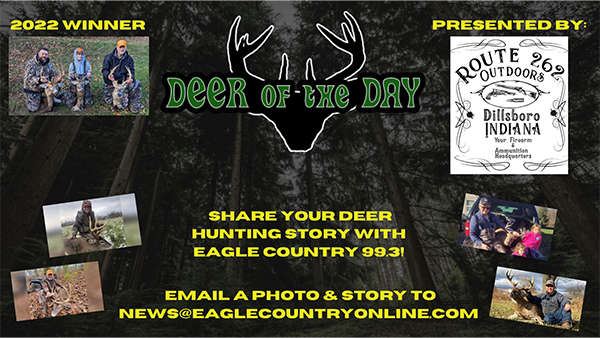 Click the artwork above to visit Route 262 Outdoors' Facebook page.
Deer of the Day is back!!!
Buck or doe. Shotgun or bow. We are welcoming everybody's nominations for the Eagle Country 99.3 Deer of the Day, presented by Route 262 Outdoors, located on....State Route 262 in Dillsboro, of course!
Route 262 Outdoors is Your Firearm and Ammunition Headquarters. For more information, visit their Facebook page: https://www.facebook.com/profile.php?id=100063569681332.
The tri-state's BEST and ORIGINAL deer photo contest is giving our listeners the chance to show off their prized whitetail harvested during the 2023-24 hunting season. Each day, we'll publish on this page a photo and story submitted by a listener.
The Deer of the Day grand prize winner will receive a $100 gift certificate to Route 262 Outdoors!
We are welcoming your nominations now through December 31, 2023! There are some simple rules to follow:
Email your medium to high resolution photo in JPEG or GIF file format to news@eaglecountryonline.com. Please include your name, city of residence, and location of the harvest along with a one paragraph story detailing your successful hunt.
Keep your photo and story tasteful. Photos showing too much blood and/or guts won't be considered (yuck!).
The deer shown must have been hunted legally and ethically during the 2023 bow, firearms, muzzleloader, or youth hunting season in local areas of Indiana, Ohio, or Kentucky.
THURSDAY, THURSDAY 30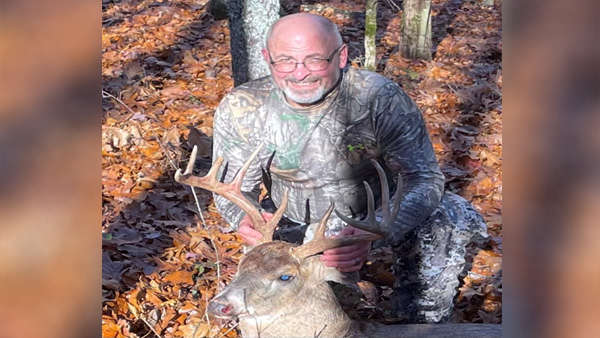 Submitted by Darrell Hildebrand
I shot this nice 10 point with a 17 3/8" spread opening morning of firearms season in Dearborn County 11/18/23 @ 9:40 in the morning. Scott Hildebrand
WEDNESDAY, NOVEMBER 29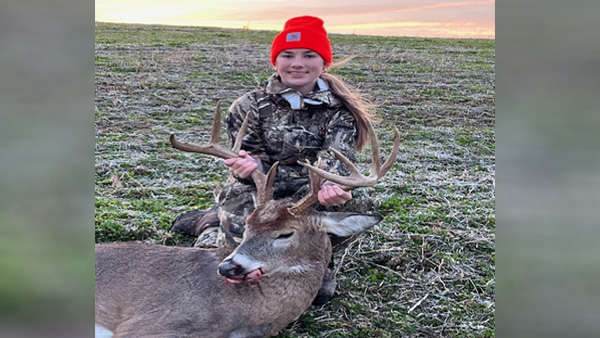 Submitted by Jessica Garland
Ashlynn Garland 13, of Aurora Indiana harvested her first buck on her grandparents farm in Ohio county. She set out the morning after Thanksgiving with her dad. Sure enough, right after the sun started shining she was able to get her sights just right. Congratulations Ashlynn! We are so proud of you. Love Mom
TUESDAY, NOVEMBER 28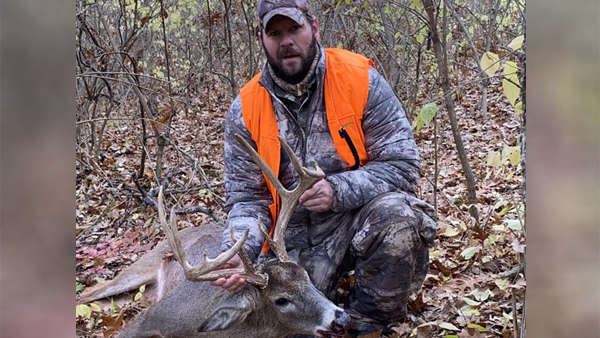 Submitted by Nicole Warman
Curt Moore took this 10-point buck this morning on our farm in Dearborn County.
MONDAY, NOVEMBER 27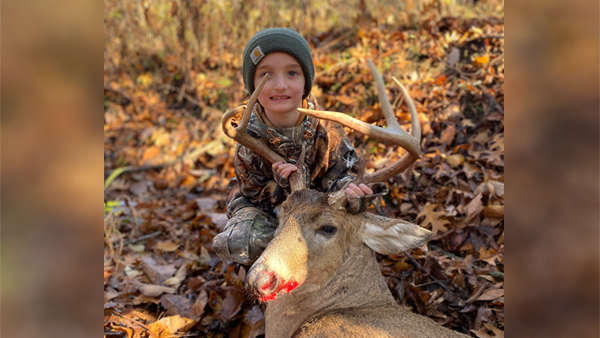 Submitted by Leah Mondary
This is our 5 year old son, Wyatt Smith, with his first deer. He was hunting with his daddy opening day at his grandparent's farm in Dillsboro, IN. He shot this deer with his, "410 sniper rifle". He couldn't be more happy with his first "monster buck" and we couldn't be more proud of the work he put in to be able to harvest his first deer!
WEDNESDAY, NOVEMBER 22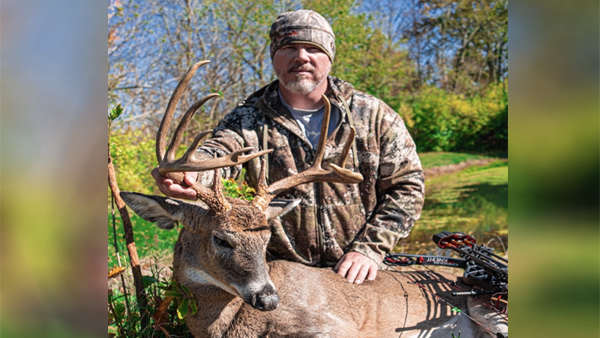 Submitted by Clayton Carter
Clayton had a successful hunt in Ohio County on Halloween 151" 10 point.
TUESDAY, NOVEMBER 21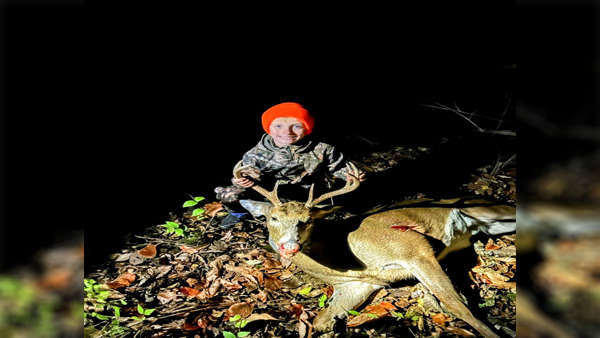 Submitted by Krissy Redwine
Grant Redwine, Shot on County Farm Rd in Manchester. Grant and his dad were hunting, and his dad was trying to talk him into shooting a smaller deer, but he said no way! 15 minutes later an 8 pointer came through and he stood straight in front of their blind for 15 minutes before turning broadside and he was finally able to make a perfect shot, successfully getting his first deer!
WEDNESDAY, NOVEMBER 15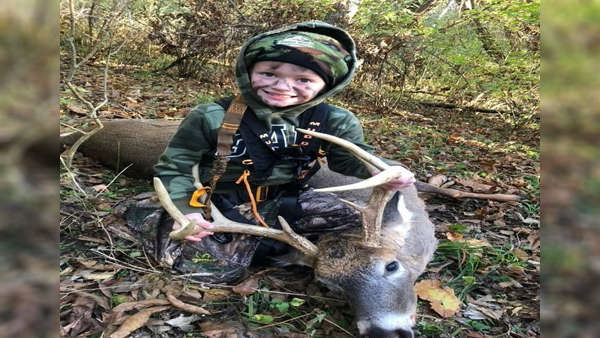 Submitted by Lauren Rashelle
Caden Foutty, 7, Rising Sun, IN hunted with his papaw and harvested his first buck! He had a perfect shot in Ohio county with a crossbow at 25 yards. They had a great hunt, and both are so proud!
TUESDAY, NOVEMBER 14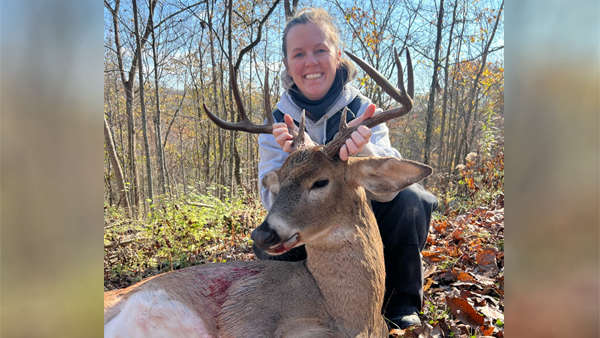 Submitted by Abby Roessler
Got my first buck ever this year, the kids get first dibs every year. I went out solo on morning of Nov. 1st. Around 1030 I saw him trailing a doe grunting about 80 yds out, hoping she'd bring him back around I waited and sure enough they looped back around and came in to 27 yds and shot. He went about 90 yds and dropped.
MONDAY, NOVEMBER 13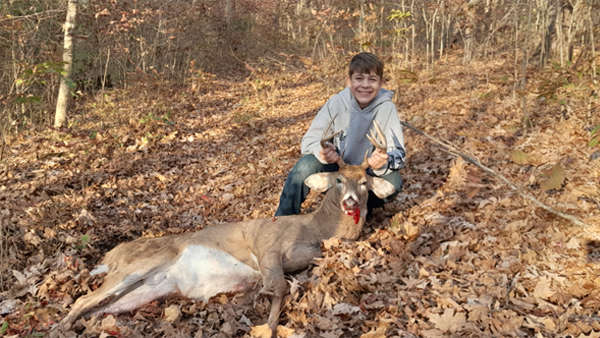 Submitted by Luke Jowers
I shot this 12 point buck at 60yds with a crossbow. My practice with the target paid off because it was a perfect heart shot. So happy to have shot this big buck that God has blessed me with. Harvested on 11/3/23 in Bennington, IN.
THURSDAY, NOVEMBER 9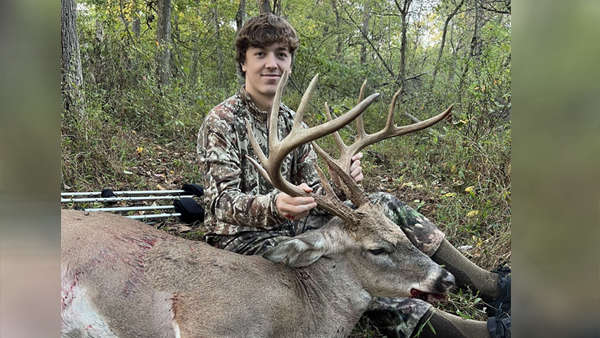 Submitted by Ezra Hastings Bow kill, Dearborn county
I ended up having to get knee surgery right before the season this year. My doctor told me I wasn't aloud to hunt until November.. We ended up having a cold front come in on October 7th and my cousins convinced me to crutch to my tree stand because we had a feeling he could show. I sat for about an hour and saw him in a thicket, I hit the grunt call and he came right to me. I shot him at 8 yards and he didn't make it far.
WEDNESDAY, NOVEMBER 8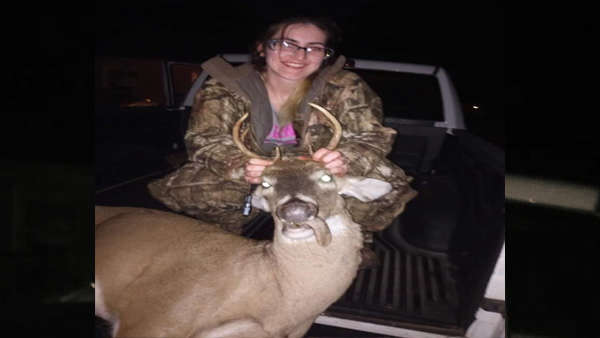 Submitted by Morgan Delmar
Caught first deer in Ripley County using a bow. 11/07/23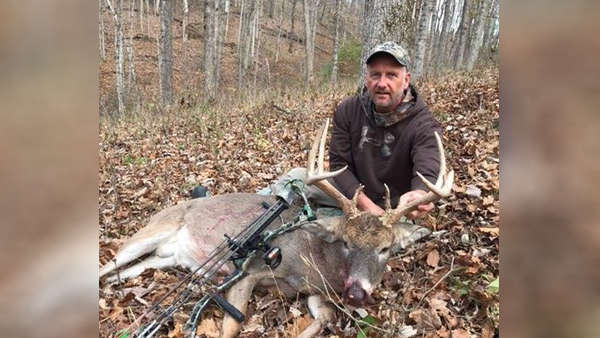 Submitted by Michael Caplinger
Vevay, Ind.
Date of kill: 11/04/23 @ 8:30am Used a grunt call to lure this 4.5 year old 10 point to within 16 yards.
TUESDAY, NOVEMBER 7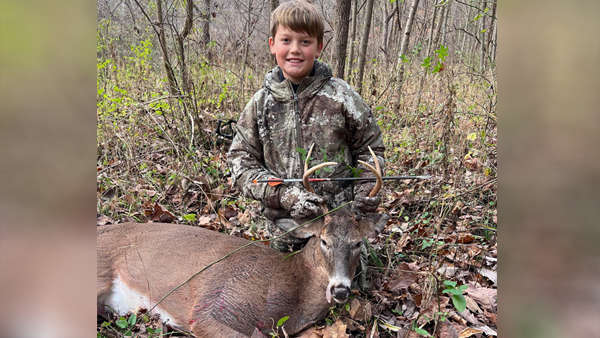 Submitted by Whitney Shell
Maddox Redwine is 10 years old and is from Dillsboro IN. After 2 days in the woods with his Uncle Ryan Redwine, he was determined this morning, so he got up super early on November 4th and shot and killed his FIRST deer with his Aunt Katie Berry in Ripley County. He said it was 30 yards away and he waited patiently to get the perfect shot and pulled the trigger on his crossbow and laid him down. He is so excited and is already talking about his next buck he's going to get.
MONDAY, NOVEMBER 6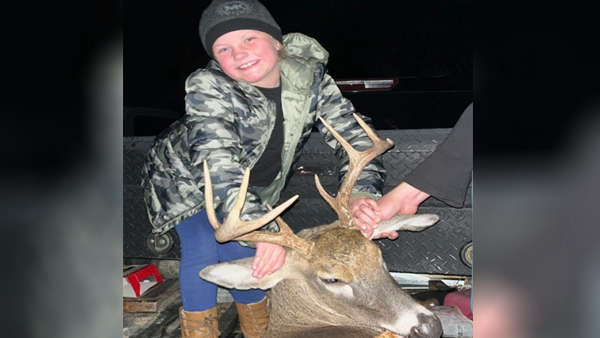 Submitted by Jacob Mick
This 9 point buck was takin by Avery Mick age 8 of Dillsboro Indiana. It was Avery's first deer. She killed the buck in Ohio County with a crossbow on November 2!
WEDNESDAY, NOVEMBER 1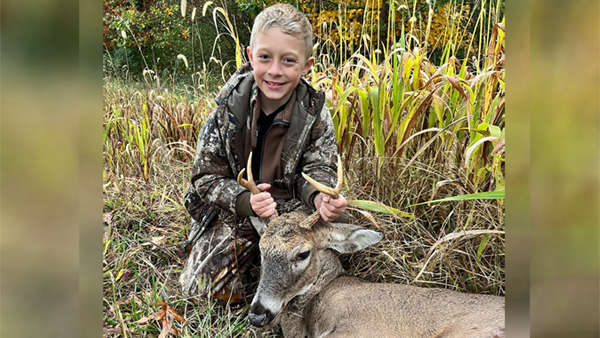 Submitted by Jessica Gilb
Jace Gilb (8 years old) harvested his first deer the day before Halloween, October 30th, from 15 yards away with a cross bow. He named the deer "ghost" and enjoyed the hunt with his dad, Josh, in Ohio County.
TUESDAY, OCTOBER 31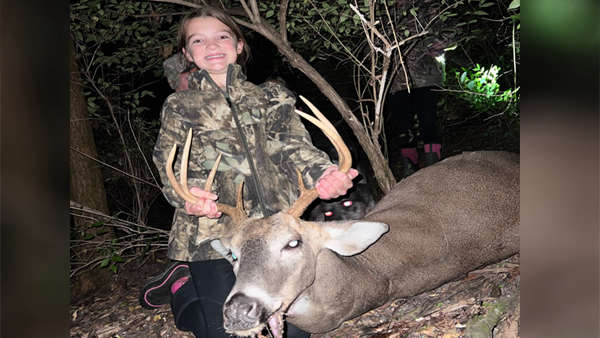 Submitted by Abby Roessler
Audrey Roessler 10 yrs old had a perfect shot on this nice 8 point buck October 10th at 53 yds with a crossbow while out hunting with her mom. The deer had snuck around the back side of the hill out of site the night before but hoping he'd be out again we went out and sure enough he came out and she was able to get him the next night!
MONDAY, OCTOBER 30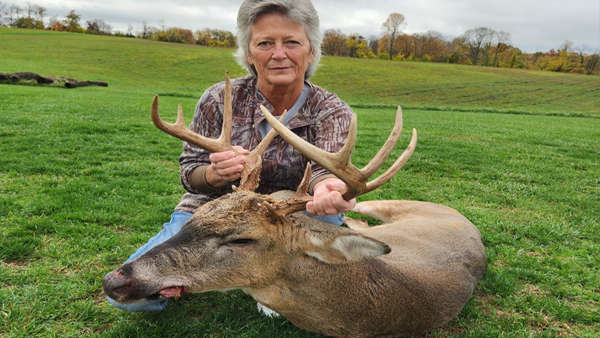 Submitted by Rose Foley
Switzerland County, Indiana, Saturday 10/28/2023 5:30pm. 11pt. 67 years and still climbing trees and bow hunting rain or shine!
MONDAY, OCTOBER 23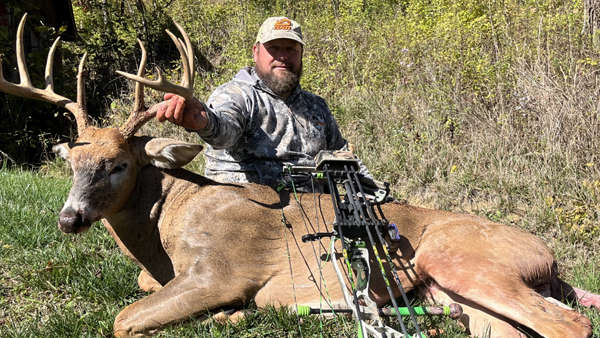 Submitted by Brett Dohn
My name is Brett Dohn I live in Greendale. I took my deer in Dearborn County. With a bow. I had him on camera all summer and he disappeared a few weeks ago and showed up on the other end of the farm. I saw him in the thicket and grunted at him and he came in to 15 yards and stopped under some tree branches and with no shot to take I waited knowing he smelled me then he stomped and went to run and I drew the bow and hit my mark as he went to run.
THURSDAY, OCTOBER 19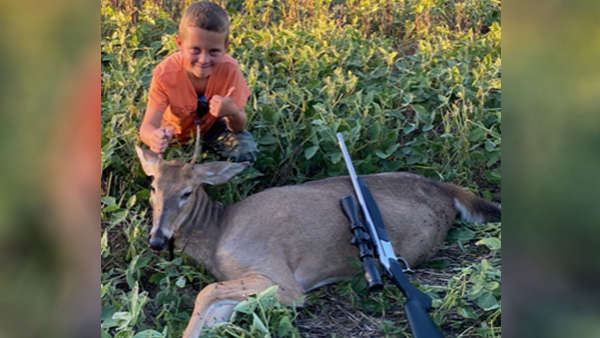 *Submitted by Heidi Jones
This is Sawyer Jones. An 8-year-old first time hunter. He went out a couple times last year, but just wasn't sure about it. He spent all day opening the youth season sitting with his dad in the tree stand. He set up on different deer all day, but just wasn't sure about it. Every time he would set up, he would ask his dad more questions about hunting and debating whether or not he should just wait another ice cream season to hunt. Finally at 6:56 he set up and finally decided that it was time to get his deer at 110 yards! He was very excited and happy to finally get his first deer! I guess he didn't need another ice cream season after all.
MONDAY, OCTOBER 16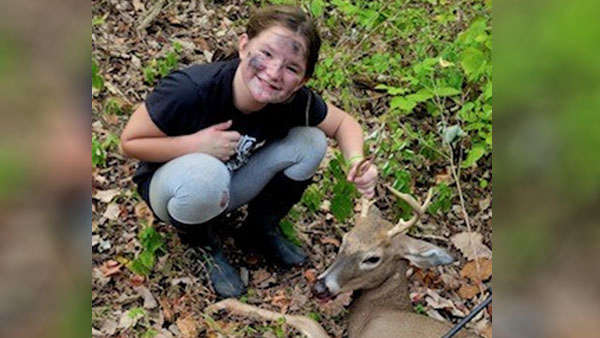 Submitted by Brittany Hunt
This is my daughter Sophie Hurt. On the evening of the last day of youth 9/24/23 she and her dad went hunting in Dearborn County. She had been practcing for weeks! They went up and waited for about an hour and here comes a 6 pointer a couple yards away she free handed the 4-10 and did a perfect shot.
She was very excited!
MONDAY, OCTOBER 9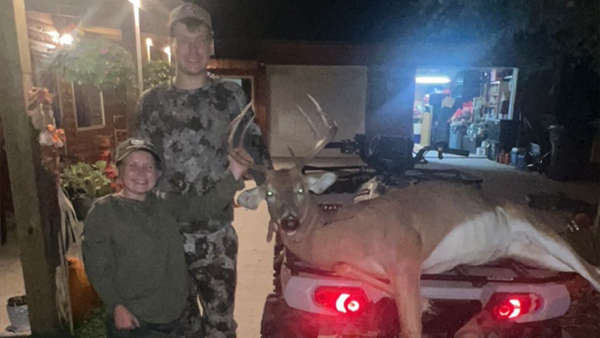 Submitted by Megan Pickett
This is my 8 year old Paisley Bennett. This was her first season to start hunting ( youth season). She had been target practicing and after shooting decided she didn't want to go because the kick of the gun scared her. The next day we talked again about hunting and she had decided that she wasn't going to let that stop her and she was going to go and get a big buck! We had plans on that Saturday so that only left Sunday for her to hunt. She went out Sunday with her Uncle Jake and shot this 8 point buck with a 6.5 CR. She persisted and her hard work paid off.
THURSDAY, OCTOBER 5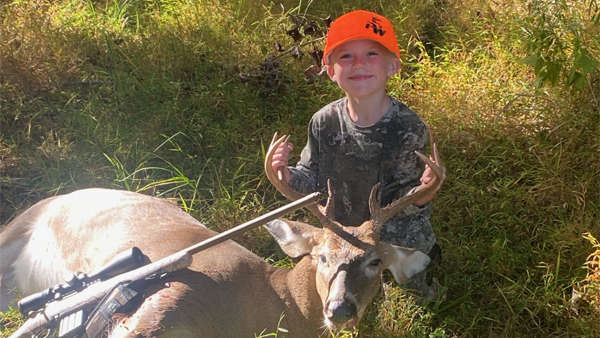 Submitted by Trisha Rowlette
This is my son Cole Caldwell who is 6 years old and he harvested his first buck on 9-23-23 opening morning of youth season. It is an 8 point buck and he and his dad, Tommy, were both very excited. The buck was harvested in Dearborn County from 205 yards away!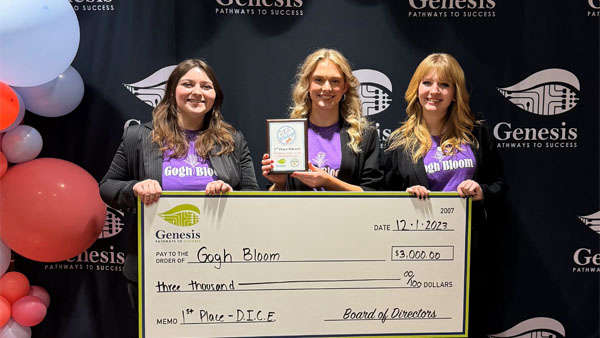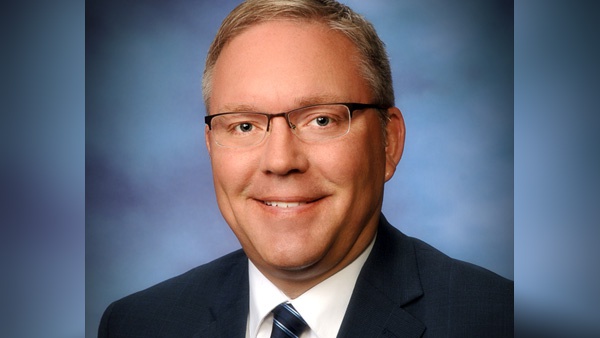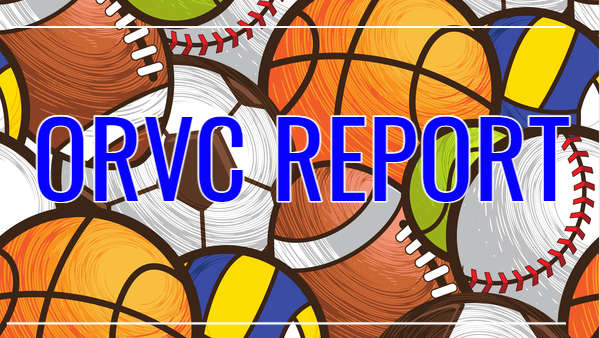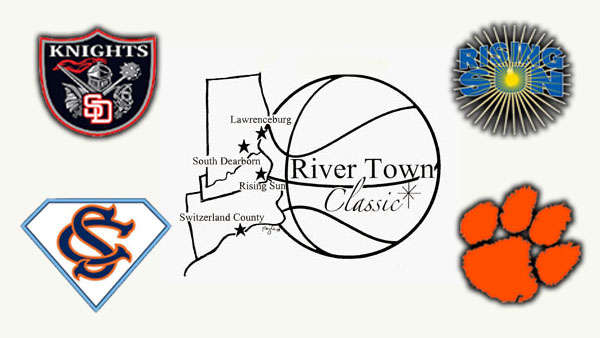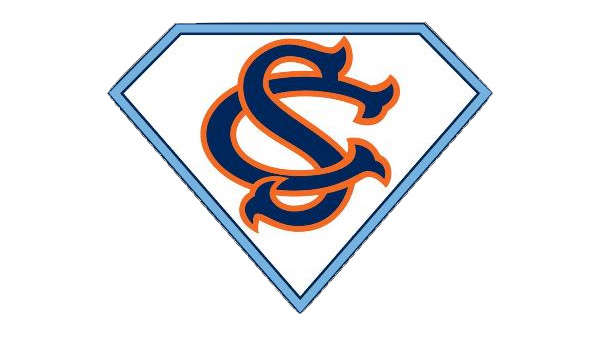 On Air