Deer of the Day 2021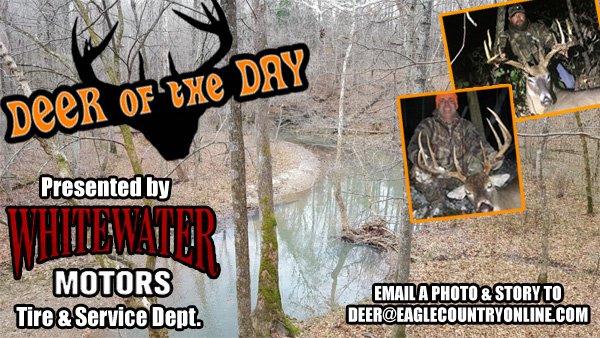 Deer of the Day is back!!!
Buck or doe. Shotgun or bow. We are welcoming everybody's nominations for the Eagle Country 99.3 Deer of the Day, presented by Whitewater Motors Tire and Service- The Most Trusted Name in the Tire and Service experience
Call Tobey Woolwine and Jason Smith for a customized tire buying experience.
Fall Service specials:
- Standard 5 qt. oil change, tire rotation, lube and filter change, front wiper replacement, battery and coolant test for $89.95 (valid thru 12/31/21).
- Coolant System Flush just $119.95 (valid thru 12/31/21).
Regarding Deer of the Day contest- submitted photos entered to win the Grand Prize! A $250 service Gift Certificate to Whitewater Motors Tire and Service.
The tri-state's BEST and ORIGINAL deer photo contest is giving our listeners the chance to show off their prized whitetail harvested during the 2021-22 hunting season. Each day, we'll publish on this page a photo and story submitted by a listener. Robb Reel will also share your successful hunting story with our listeners on the Eagle Country 99.3 Morning Show! The Jeremy Show will talk you up in the mid-day, and Double T will feature it again on the afternoon show.
We are welcoming your nominations now through December 31, 2021! There are some simple rules to follow:
Email your medium to high resolution photo in JPEG or GIF file format to news@eaglecountryonline.com. Please include your name, city of residence, and location of the harvest along with a one paragraph story detailing your successful hunt.
Keep your photo and story tasteful. Photos showing too much blood and/or guts won't be considered (yuck!).
The deer shown must have been hunted legally and ethically during the 2021 bow, firearms, muzzleloader, or youth hunting season in local areas of Indiana, Ohio, or Kentucky.
THURSDAY, OCTOBER 21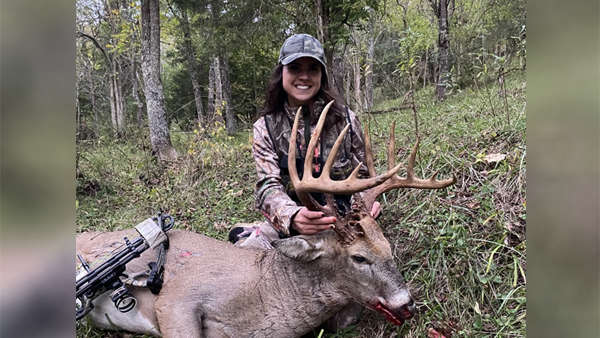 Submitted by Sarah Hornbach
On October 16, 2021 I was able to harvest this amazing buck! We were getting pictures of him all summer in velvet & I knew I had to get him. A few of my dad's friends got pictures of him for the past three years but never saw him in person. The second evening I went out he walked in at about 30 yards but wasn't able to get a shot. I was just in shock that I saw him in person. Went out the next three nights and noticed he had the same pattern every evening but never came close enough for me to get a shot. So the 5th evening my parents moved my stand in the afternoon in hopes that I would get a shot. At around 6:45 he walked in to the left of my stand at 23 yards and I was able to get a good solid shot. We tracked him shortly after and found him. Hands down one of the best experiences of my life!
MONDAY, OCTOBER 11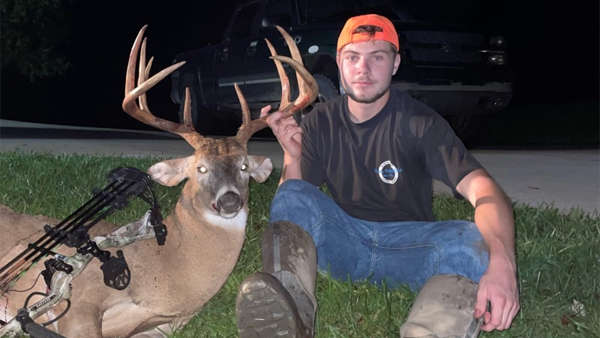 Submitted by Drake Mitchell
Shot this 9 point buck with my bow October 2nd in Ripley County at 7:10 pm. I had previously been getting consistent pictures of him on my camera but then he quit showing up. I hung a stand on the edge of the cedars and he showed up on my third sit. He came in and was a little skiddish. Luckily, I was able to pull the shot off and found him later. I was blessed and happy that night.
FRIDAY, OCTOBER 8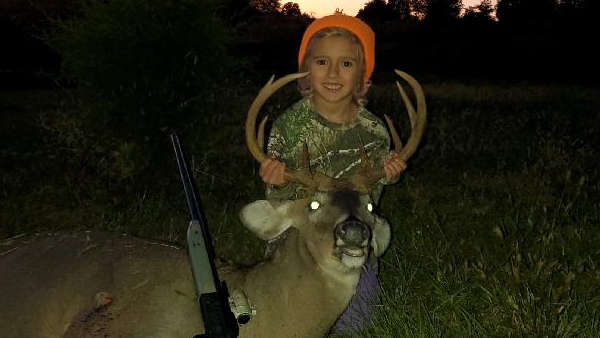 Submitted by Zackary Frondorf
My daughter, Autumn's (age 6) first deer. The harvest took place in Ohio County on September 25th, Opening Day of youth season. She shot this 9 point buck at 20 yards with a .410 shotgun. Such a proud moment
THURSDAY, OCTOBER 7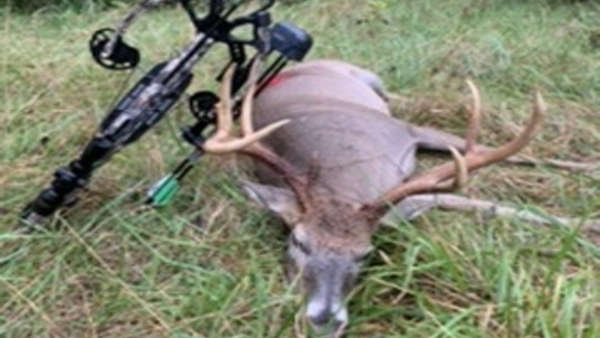 Submitted by Jake Orcutt
I live in Aurora Indiana. The harvest was taken in Dearborn County. I've watched this buck grow up for a couple years. I have a lot of trail camera photos and videos he was very tricky to finally get a shot on. It was all a matter of the right place at the right time.
4-H for Everyone: Your place to belong!

Celebrate National 4-H Week by enrolling in 4-H beginning October 1st. Dearborn County 4-H is looking for youth and adults to join our 4-H family. 4-H is a Positive Youth Development program of Purdue Extension serving all youth grades K-12 and you don't need to live on a farm to participate! Youth participate in club activities, special interest or afterschool programming, 4-H camp and more. Families can choose their level of participation. 4-H participation builds leadership and other life skills youth need to be successful. Develops belonging independence, mastery and generosity, is hand on and family friendly! If you have questions about the 4-H program, please contact Liz Beiersdorfer, ebeiers@purdue.edu or call 812-926-1189.

at

The Witches of Breakout

The Witches National Convention was held in our room last night! We found out that they made plans to turn everyone who isn't a witch into a black cat or a bat. They locked the spell they need in the Breakout EDU box. The Spell was written in magic ink, and if it stays in the box for more than 45 minutes, it will be cast! If we can open the box before the 45 minutes are up, contact with air will break the spell. Work together to unlock the boxes and undo the magic of the Witches of Breakout! Registration required; limited spots available for individuals and groups. Must register: www.lpld.lib.in.us/calendar. 5 p.m. & 7 p.m. (two sessions) Friday, Oct. 22, Lawrenceburg Main Library. 812-537-2775. Tweens and Teens. Free.

at

Lawrenceburg Public Library District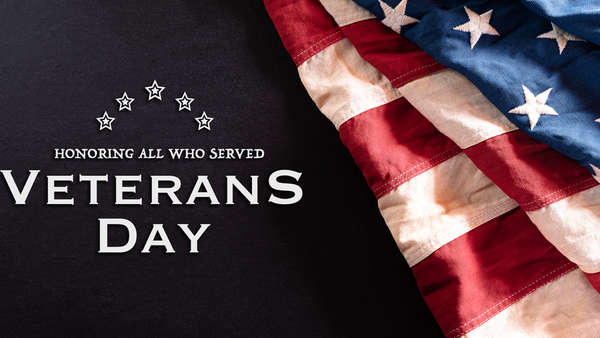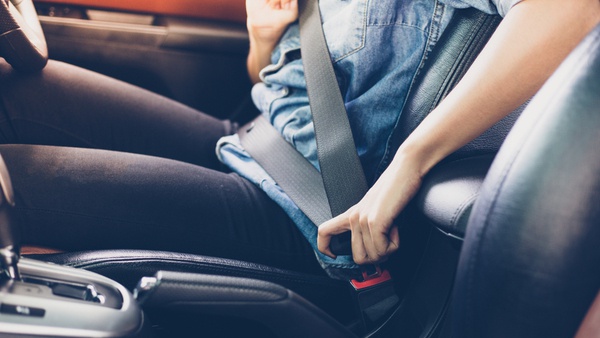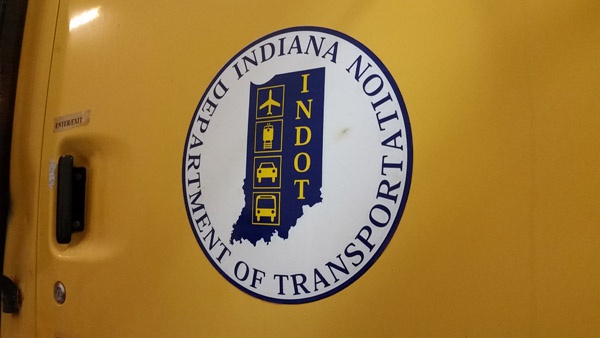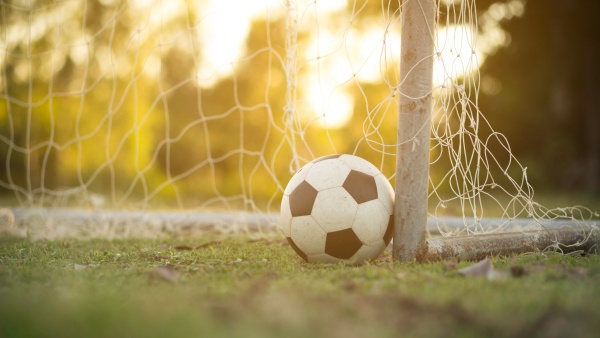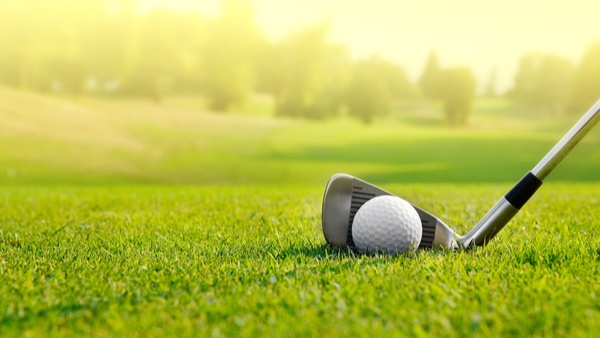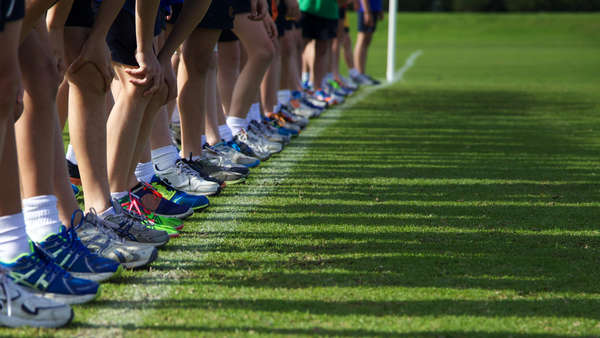 On Air