Lawrenceburg and South Dearborn tangles on Friday night and their Coaches vs. Cancer fundraiser eclipsed the $10,000 mark.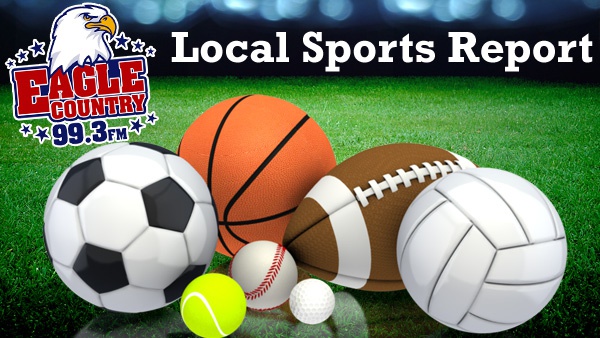 Please report missing scores and statistics to 888-537-9724 or email news@eaglecountryonline.com.
FRIDAY, FEBRUARY 21
BOYS BASKETBALL
Lawrenceburg 75, South Dearborn 52 - Eagle Country 99.3 Feature Game - The Tigers opened up the game with a 17-12 lead at the end of the first quarter. A 22-7 second quarter broke the games open for the Tigers. Lawrenceburg couldn't miss, shooting 58 percent from the field, 64 percent from three (11/17) and 100 percent from the charity stripe (10/10). Gavin Yoon led all scorers with 33 points on 11 of 15 shooting, including 5/5 from behind the arc. Garrett Yoon had 15 points, shooting 5/6 from the three point line. Jackson Bobo added 10 points for the Tigers and Mitch McCool chipped in with seven assists. South Dearborn was led by Alex Shackelford with 19 points. Eli Hoffman knocked down five threes, scoring 17 points. Reese Willoughby added 8 points for the Knights.
Final @CoachesvsCancer donation will be counted Monday as money bag from dinner is locked in office and Tiger Pride will finalize their popcorn donation. It will exceed or at least flirt with $15,000! Thanks to everyone for their donations and participation in the initiatives!

— Lawrenceburg Tigers Basketball (@Tigers_Hoops) February 22, 2020
What an awesome event, even if I got a pie in the face. With that being said, can @blackwelljk1 confirm a winner of the penny war contest? Asking for my friends @LHSLCSC! https://t.co/V0ebPOJwg6 pic.twitter.com/J5irSuDeRD

— Ryan Knigga (@lhstigercoach) February 22, 2020
On Friday night vs SD, @YoonGavin passed both Jon Pitcock and Paul Bruner to move into second place all time in points scored in LHS history!

— Lawrenceburg Tigers Basketball (@Tigers_Hoops) February 23, 2020
South Ripley 61, Rising Sun 28
Jac-Cen-Del 52, Switzerland County 46
Jennings County 66, Batesville 51
SWIMMING
East Central finished fourth in the team standings with 290 points. Milan was 6th, Batesville was 7th, South Dearborn was 9th and Lawrenceburg placed 10th. Individual winners that are advancing to state include: Jackson Ketchum (EC, 200 free, 500 free) and John Crawley (EC, diving). The Trojans 200 yard relay team also finished in 1st place (Jackson Ketchum, Nick Weber, Matthew Badinghaus, Owen Matthew).
WRESTLING
IHSAA Wrestling State Championship
East Central's Bryer Hall made it all the way to the championship round, where he was defeated by Floyd Central's Jonathan Kervin. Kole Viel was defeated in the first round of the 182-pound tournament by NorthWood's Jake Lone. Lawrenceburg's Andrew Roth was knocked out of the 160-pound tournament in the first round by Columbus East's Samuel Morrill.
Congratulations Bryer Hall! Finishing up your season as runner up @IHSAA1 @ectrojanwrestle Nothing to be ashamed of! Great job!!! pic.twitter.com/LXzITEpxXD

— East Central HS (@EastCentralHS) February 23, 2020
SATURDAY, FEBRUARY 22
BOYS BASKETBALL
Connersville 49, Lawrenceburg 42 - Lawrenceburg's hot shooting from Friday night didn't carry over to senior night on Saturday. The Tigers shot just 34 percent from the field and couldn't come back from a 19-7 first quarter deficit. Gavin Yoon led all scorers with 21 points.
Not a Concert!!! LHS Gymnasium! Just a little delay! pic.twitter.com/TYKo2lqnHC

— Ryan Knigga (@lhstigercoach) February 23, 2020
East Central 55, Shelbyville 50
South Dearborn 78, Switzerland County 76 - OT - Alex Shackelford had a big game with 27 points. Damian Breeck led Switzerland County with 33 points.
Batesville 55, Morristown 47
Greensburg 63, South Ripley 52
Milan 84, Jac-Cen-Del 73