Affordable Tax Consultants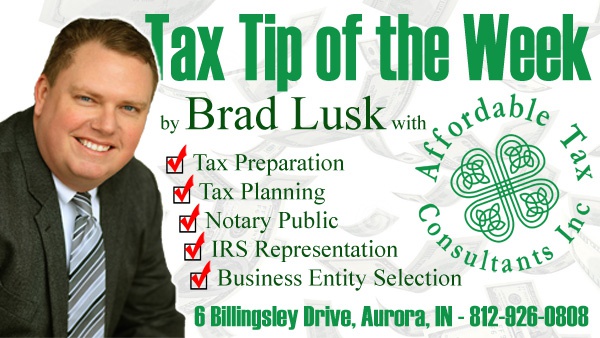 Like Affordable Tax Consultants
on Facebook!
With over 10,000 tax returns submitted in the last 10 years, Brad Lusk at Affordable Tax Consultants has experience in not only personal returns, but also with small business, rental properties, farms, estates and more. Specializing in personal returns, Brad takes his time to connect with all of his clients to provide a personalized approach along with expert advice. Brad is consistent with staying on top of all the ongoing changes in the tax world, by continuing his education throughout the year.
Designations Brad has earned through the IRS include Registered Tax Return Preparer (RTRP) and Annual Filing Season Program (AFSP).
"Filing your income taxes is one of the most important financial transactions of the year. This is why it is important to us that you receive the attention necessary to get the job done correctly," Brad says.
If you want to save yourself work and get back money that you deserve, visit Brad today at Affordable Tax Consultants, 6 Billingsley Drive, just of U.S. 50/Green Blvd., in Aurora, Indiana.
You can also learn more at affordabletaxconsultants.com or email Brad directly with your questions: bradlusk@affordabletaxconsultants.com.

TAX TIP OF THE WEEK:
Taxpayers with dependents who don't qualify for the child tax credit may be able to claim the credit for other dependents. The maximum credit amount is $500 for each dependent who meets certain conditions. These, include:
Dependents who are age 17 or older.
Dependents who have individual taxpayer identification numbers.
Dependent parents or other qualifying relatives supported by the taxpayer.
Dependents living with the taxpayer who aren't related to the taxpayer.
The credit begins to phase out when the taxpayer's income is more than $200,000. This phaseout begins for married couples filing a joint tax return at $400,000.
A taxpayer can claim this credit if:
They claim the person as a dependent on the taxpayer's return.
They cannot use the dependent to claim the child tax credit or additional child tax credit.
The dependent is a U.S. citizen, national or resident alien.
Taxpayers can claim the credit for other dependents in addition to the child and dependent care credit and the earned income credit.
Taxpayers can use the worksheet in Publication 972, Child Tax Credit and Credit for Other Dependents (PDF). This worksheet will help them determine if they can claim the credit for other dependents.
IRS NOTICE: Payment Deadline Extended to July 15, 2020
The Treasury Department and the Internal Revenue Service are providing special payment relief to individuals and businesses in response to the COVID-19 Outbreak.
Highlights
Filing Deadline
The filing deadline for tax returns remains April 15, 2020. The IRS urges taxpayers who are owed a refund to file as quickly as possible. For those who can't file by the April 15, 2020 deadline, the IRS reminds individual taxpayers that everyone is eligible to request a six-month extension to file their return.
Payment Relief - Individuals
Income tax payment deadlines for individual returns, with a due date of April 15, 2020, are being automatically extended until July 15, 2020, for up to $1 million of their 2019 tax due. This payment relief applies to individuals, trusts and estates. IRS will automatically provide this relief to taxpayers. Taxpayers do not need to file any additional forms or call the IRS to qualify for this relief.
Payment Relief - Corporations
For C Corporations, income tax payment deadlines are being automatically extended until July 15, 2020, for up to $10 million of their 2019 tax due.
Estimated Tax Payments
This relief also includes estimated tax payments for the tax year 2020 that are due on April 15, 2020.
Penalties and Interest
Penalties and interest will begin to accrue on any remaining unpaid balances as of July 16, 2020. If a tax return or extension is filed by April 15, 2020, the taxpayer will automatically avoid interest and penalties on the taxes paid by July 15.
States
This relief only applies to federal income tax (including tax on self-employment income) payments otherwise due April 15, 2020, not state tax payments or deposits or payments of any other type of federal tax. State filing and payment deadlines vary and are not always the same as the federal filing deadline. We expect state tax agencies to announce any available tax relief for affected taxpayers in the coming days; some have already published these notices on their websites.
Drake Tax Software Updates
We will update our software accordingly for any federal and state tax relief that impacts forms or calculations. These updates will be implemented as quickly as possible.
Here are facts to help taxpayers understand the different filing statuses
Taxpayers don't typically think about their filing status until they file their taxes. However, a taxpayer's status could change during the year, so it's always a good time for a taxpayer to learn about the different filing statuses and which one they should use.
It's important a taxpayer uses the right filing status because it can affect the amount of tax they owe for the year. It may even determine if they must file a tax return at all. Taxpayers should keep in mind that their marital status on Dec. 31 is their status for the whole year.
Sometimes more than one filing status may apply to taxpayers. When that happens, taxpayers should choose the one that allows them to pay the least amount of tax.
Here's a list of the five filing statuses and a description of who claims them:
Single. Normally this status is for taxpayers who aren't married, or who are divorced or legally separated under state law.
Married Filing Jointly. If taxpayers are married, they can file a joint tax return. When a spouse passes away, the widowed spouse can usually file a joint return for that year.
Married Filing Separately. A married couple can choose to file two separate tax returns. This may benefit them if it results in less tax owed than if they file a joint tax return. Taxpayers may want to prepare their taxes both ways before they choose. They can also use this status if each wants to be responsible only for their own tax.
Head of Household. In most cases, this status applies to a taxpayer who is not married, but there are some special rules. For example, the taxpayer must have paid more than half the cost of keeping up a home for themselves and a qualifying person. Taxpayers should check all the rules and make sure they qualify to use this status.
Qualifying Widow(er) with Dependent Child. This status may apply to a taxpayer if their spouse died during one of the previous two years and they have a dependent child. Other conditions also apply.
CLICK HERE FOR MORE TAX TIPS FROM BRAD LUSK